After inciting the anger of the social justice community on Tumblr, Harry Vincent has been suspended from Texas Christian University (TCU), forced to attend a "diversity" class and recommended to see a psychiatrist. In an interview with MRCTV, Vincent told his side of the story.
The ordeal began when an individual named "Kelsey" posted screencaps of Vincent's social media posts on her Tumblr. In his posts, Vincent made commentary on political and social issues. Vincent's questionable posts include describing the Baltimore rioters as "hoodrat criminals" and stating Islam is "clearly not a religion of peace":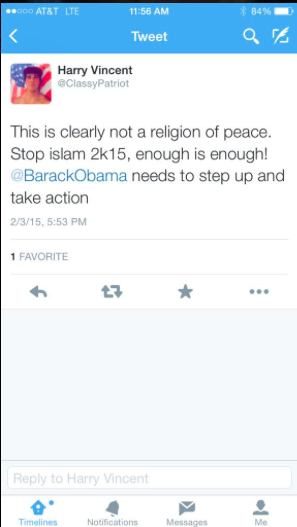 Other posts Kelsey referred to used racial slurs and profanity.
Kelsey wrote on her Tumblr, "This a**hole has been posting racist and disgusting comments on Twitter/Facebook. When I confronted him about it, he referred to me as an 'Islamic s**thead.'"
Because she was personally offended by Vincent's comments, Kelsey encouraged individuals on Tumblr to contact Vincent's university, TCU. She provided Vincent's Twitter handle, his Instagram username and contact information for the campus life dean's office. "You can email TCU and tell them that he's shedding a bad light on their university," she wrote.
Vincent told MRCTV he met Kelsey in seventh grade, when they were classmates in Maryland. Back in middle school, she allegedly used to bully him.
"I remember her as being one of the bullies I encountered during my time at Lakelands Park Middle School," Vincent told MRCTV. "She has apparently held a grudge against me throughout high school and now into college. We were Facebook friends and she did follow me on [T]witter."
On April 29, 2015 Kelsey posted she had received a response from TCU's associate dean of campus life, Glory Z. Robinson, telling her the "Campus Life Office" would be addressing the issue. Another anonymous individual also claimed to have received a response from the university, adding, "I hope there'll be consequences woo."
Kelsey replied, "ya me too!!! I feel like there has to be since a lot of people emailed them and it will look bad if they don't do anything ya know"
The Tumblr post has accumulated over 2,000 reposts and "likes" by other Tumblr users. The dean's office told Vincent they had received "over 20" complaints about his social media posts.
The same day Kelsey posted her reply from Robinson, Vincent received a letter informing him TCU is charging him with "infliction of bodily or emotional harm" and "disorderly conduct."
Vincent claims on May 1, he was ordered to write an apology letter. Vincent believes the school demanded him to construct an apology letter in order to receive an admission of guilt.
"I was given three days to write it during finals week. I wrote it under duress with the threat of expulsion if I evoked the first amendment or if the letter didn't meet Dean Robinson's expectations," Vincent explained.
"The content of the letter stated that I was sorry for any pain my tweets may have caused, and that it wasn't my intent. I tried to explain to Dean Robinson that my tweets were written over a period of approx. 6 months and that my accuser had handpicked tweets to support her statement that I was a racist and making TCU look bad. I'm [n]ot sure Dean Robinson gave my explanation any consideration."
On May 8, Robinson informed Vincent he was found to be in violation of the student conduct code and would be placed on a "suspension in abeyance" until August 15, 2016.
As a result of his suspension, Vincent is prohibited from living on campus and visiting friends in campus residence halls, banned from participating in extracurricular activities, required to complete 60 hours of community service and attend an "Issues of Diversity" course. He was also told to see a psychiatrist and instructed to meet with Robinson "on a regular basis."
"My lawyer had me speak to a psychiatrist where his final evaluation was supposed to be considered in the punishment decision, but Dean Robinson wouldn't wait for that to happen," Vincent revealed.
"I spoke to the psychiatrist but haven't seen the report. But my family and myself do not believe I need psychiatric help. Dean Robinson's final punishment did recommend that I continue meeting with a psychiatrist on a regular basis to help me get my head right."
"Looking back, I'm not sure she is in the position to make medical recommendations," Vincent said.
Vincent tried to appeal TCU's decision, but it was denied.
Vincent provided MRCTV with the script he read at his appeal hearing. His speech began:
"I, Harry Vincent, an American citizen, registered voter, and personal freedom activist, understand that I am entitled to certain rights by the United States Constitution, one of these rights, quite possibly the most important, is freedom of speech and expression. America is a country created by immigrants from all different backgrounds and nationalities, which is why free speech is such an important aspect of our foundation. It unifies us as nation while allowing each person to hold and express his or her own beliefs and opinions.

Because TCU is a private institution, I realize that you have the power and ability to punish students in the way you see fit. I made the choice to speak at this appeal hearing today because I strongly disagree with Dean Robinson's punishment decision that can be found in the informal review. Not only was my punishment was far too harsh, but I believe that TCU is unjustly punishing me for exercising, as our founding fathers put it, my 'God given rights.' It is my sincerest hope that the panel convened will listen to my perspective, ask questions, and ultimately come to their own conclusion on the matter."
In Vincent's appeal, he also provided context for his tweets, including the one personally addressed to Kelsey:
"My tweet that referred to Kelsey as Islamic s**thead was wrong and isnt justifiable, but it is important to understand the background of this tweet so that it isn't taken out of context. My tweet was a reply to a tweet that stated, '9/11/2001 was the best thing that's happened to America.' This tweet was deleted almost immediately after my response which is why I don't have record of it, but I left my tweet up which is why she was able to portray me in a bad light without revealing what my response was motivated by. Although my response was not mature or thought through, I am an avid patriot, and seeing a statement like that made my blood boil. My response was backed by the rage I had for all the families that had lost loved ones in that tragedy, as a good friend of mine lost his grandparents in Shanksville, Pennsylvania that tragic day. Additionally, I have a published oral history interview with an officer who responded to the Pentagon on 9/11, where he graphically describes the gruesome sight and smell of the scene. I allowed my temper to take over and didn't deal with it in a healthy matter and I am still enraged by the comment that was made about 9/11, but I now know that calling someone names over social media will not solve any issues."
All of Vincent's words were in vain. When denying Vincent's appeal, the university stated, "The choices you made caused harm to other individuals. These types of comments are not acceptable at TCU and directly contradict our mission of being '...ethical leaders and responsible citizens in a global community.'"
Vincent is unsure he will return to TCU. He told MRCTV, "I will most likely not attend if I am not reinstated. Although I love TCU and have great life long friends there, it goes against my principles to fund an institution that does not adhere to the Constitution nor to their own student handbook. I would not feel safe at TCU as I do not trust the administration. I have been traumatized by this event and it has brought me and my family so much pain. I am keeping my options open and am thinking of enlisting in the Marine Corps, or going on a mission trip this semester. I firmly believe that when you're feeling down, the best thing you can do is help others."