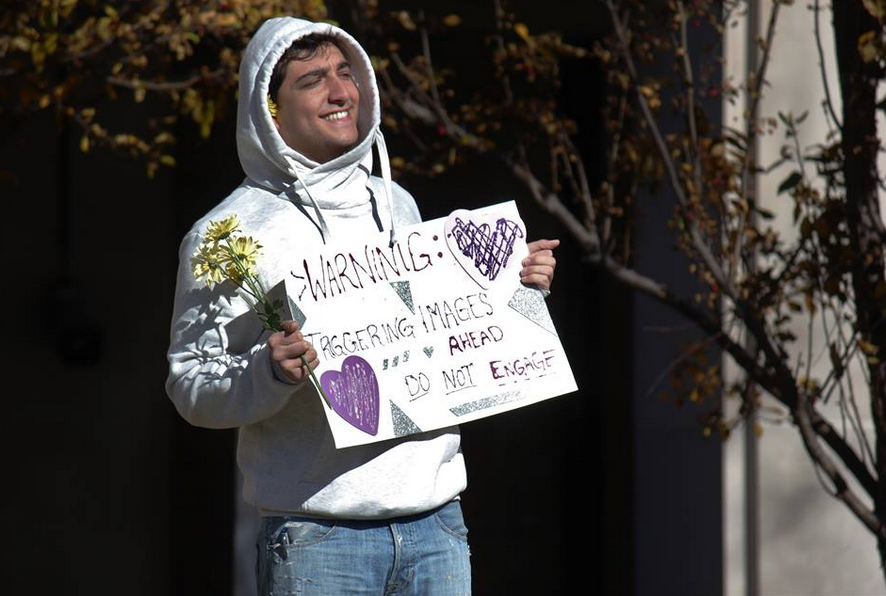 (Image source: Facebook)
Fliers were handed out claiming there would be "self-care stations" available for anyone "triggered" by the "heavy anti-choice propaganda" during a pro-life demonstration Cleveland State University Thursday.
The fliers warning about the pro-life display obtained by MRCTV read (emphasis theirs):
"TRIGGER WARNING:

The Student Plaza contains heavy anti-choice propaganda that includes graphic images & videos that may be triggering for those who have had abortions & those who are uncomfortable with the nature of this content.

This Trigger Warning will remain in effect between 10:30 am and 2:30 pm. A self-care station for students triggered by this propaganda is available on the SC Plaza during this time period, as well as in Rhodes Tower West Room 280."
John Soeder, the media officer for CSU, confirmed to MRCTV there was a demonstration by Created Equal, a pro-life organization, on campus. He also confirmed the content of the fliers.
Soeder told MRCTV the university was not involved with the trigger warnings and had no knowledge of the "self-care stations."
Rhodes Tower West Room 280 is part of the career services office, but Soeder told MRCTV career services was not involved with the event and he has no idea how the room number ended up on the flier.
"They had no inquiries as a result of the flier," Soeder told MRCTV. "So it kind of is a question for whoever put out the flier, but I don't know how that particular room number ended up on there. It had nothing to do with career services."
Soeder stated, "The procedure to distribute fliers does not appear to have been followed."
Soeder said there were tables set up in the Student Center plaza, but he "couldn't be able to tell you if they constituted" a self-care station.
Jami Beer, the director of communications for Created Equal, told MRCTV that she did not see any fliers for the self-care stations, but there were dozens of protesters.
Some of the protesters were holding "trigger warning" signs.
"It proves our point that abortion is not a good thing if it requires a trigger warning," Beer said.