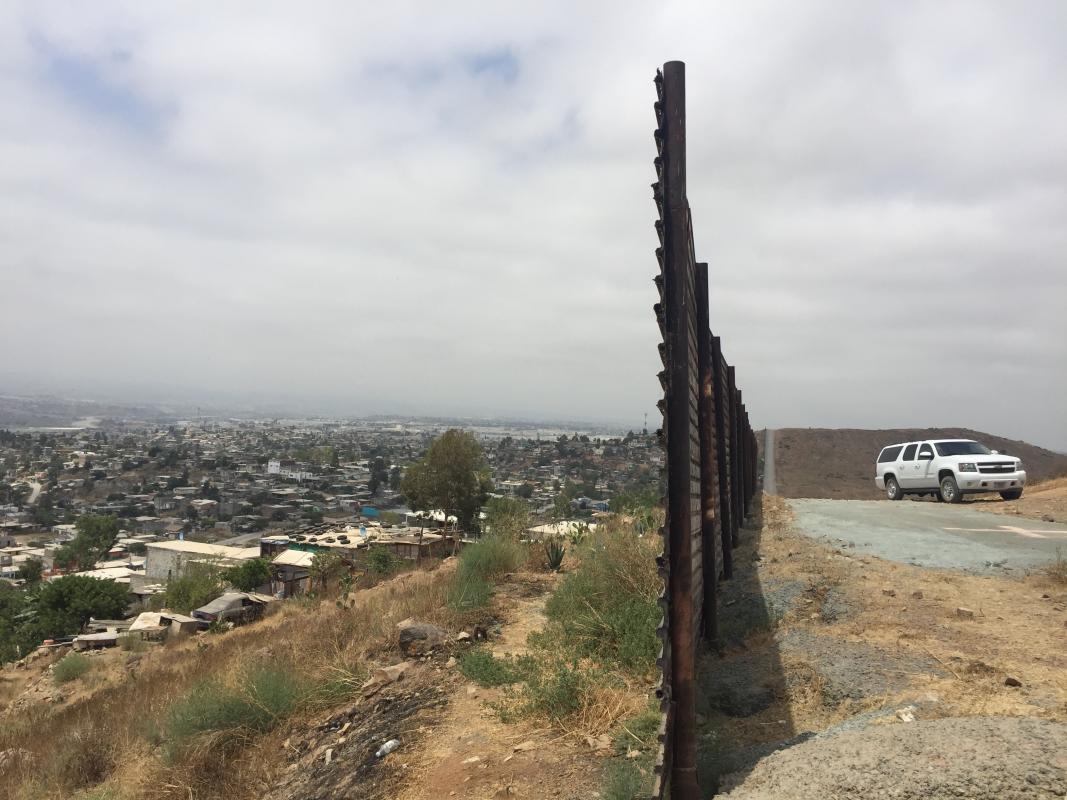 Photo: End of primary border fence looking into Mexico
In an exclusive interview with MRCTV, San Diego Border Patrol gave credence to the argument that a border wall would help deter the flow of illegal immigrants and illicit drugs over the U.S.-Mexico border.
Speaking with Border Patrol agents Tekae Michael and Lindsay Begg, MRCTV's Brittany Hughes and Monica Sanchez got an inside look at their day-to-day operations and how effective infrastructure can be when it comes to border security. 
In the 1980's and 1990's, San Diego sector was the busiest (and smallest) sector along the border. With very little infrastructure, Agent Michael described that era as a dangerous time, plagued with "bandit activity" such as rape, burglary, and even murder.
Along the border sits towns such as Tijuana's Colonial Libertad, known in the 80's as a prime crossing spot for illegal aliens. The border was so poorly secured that Mexicans were able to cross without issue, set up shop and even play soccer in U.S. territory.
Bandit activity was so prominent that Border Patrol agents couldn't patrol along the border. Instead, they would sit back and play defense on high ground.
"We would have to be up on top of these ridges," said Agent Michael.
Now, because of two layers of border fencing (primary and secondary), new technology, and Border Patrol agents actively patrolling the area, you can sit along the border and feel a sense of security that wasn't known a couple decades ago.
"Secondary fencing definitely helped in crime and the bandit activity was really prominent in this area," said Michael. "There were a lot of rapes going on, robberies, murders even. This was a very notorious spot for that, so with the secondary fencing going up, that helped a lot."
"These are very dangerous areas," she said. "But what you can see, we are actually able to be close to the border without a fear of being overrun."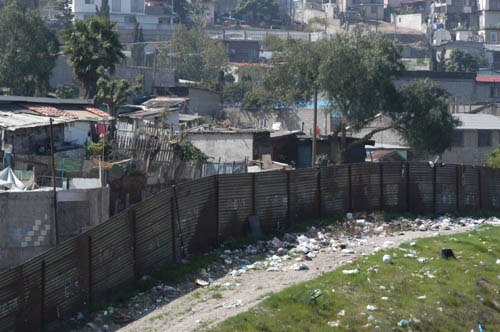 Photo: Via U.S. Border Patrol, Colonia Libertad, South neighborhood of Tijuana
To give some perspective, San Diego sector border apprehensions fell from a high of 628,370 in 1986 to 540,347 in 1991 when the primary fencing was built. Apprehensions fell again to 283,889 in 1997 when the secondary fencing went up.
Even more significant, with new technology and manpower, border apprehensions in 2016 were 31,891. Apprehensions to date in Fiscal Year 2017 are a low 19,864. That's hundreds of thousands less than 31 years ago.
Compared to other sectors such as the Tucson sector in Arizona – which had 64,891 apprehensions in 2016 – and the Rio Grande Valley sector in Texas – which had 186,830 apprehensions in the same year – the San Diego sector is a model representative of basic border security principles put to practice.
San Diego sector spans 60 miles from the Pacific Ocean east toward El Centro. The border is protected by a primary fence, a secondary fence than runs from the water east for 13 miles, and natural barriers such as the Otay Mountain Reserve.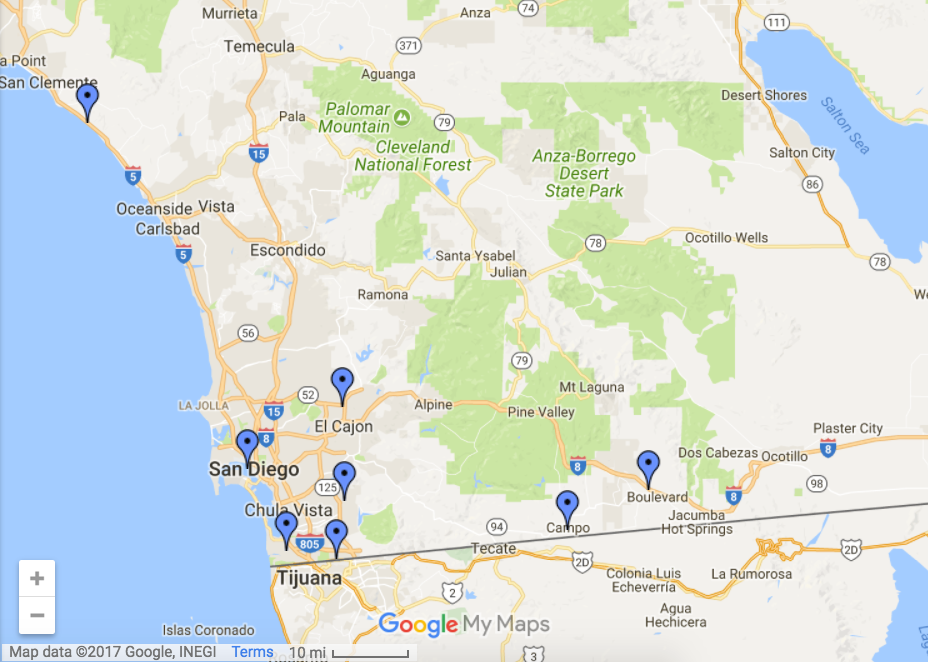 Photo: Via Google Maps, San Diego sector
While the secondary fencing drops off at 13 miles in and the primary fencing drops off where the mountains begin, the Otay Mountain Reserve would make for a grueling two-to-three-day hike for a migrant or smuggler wishing to cross.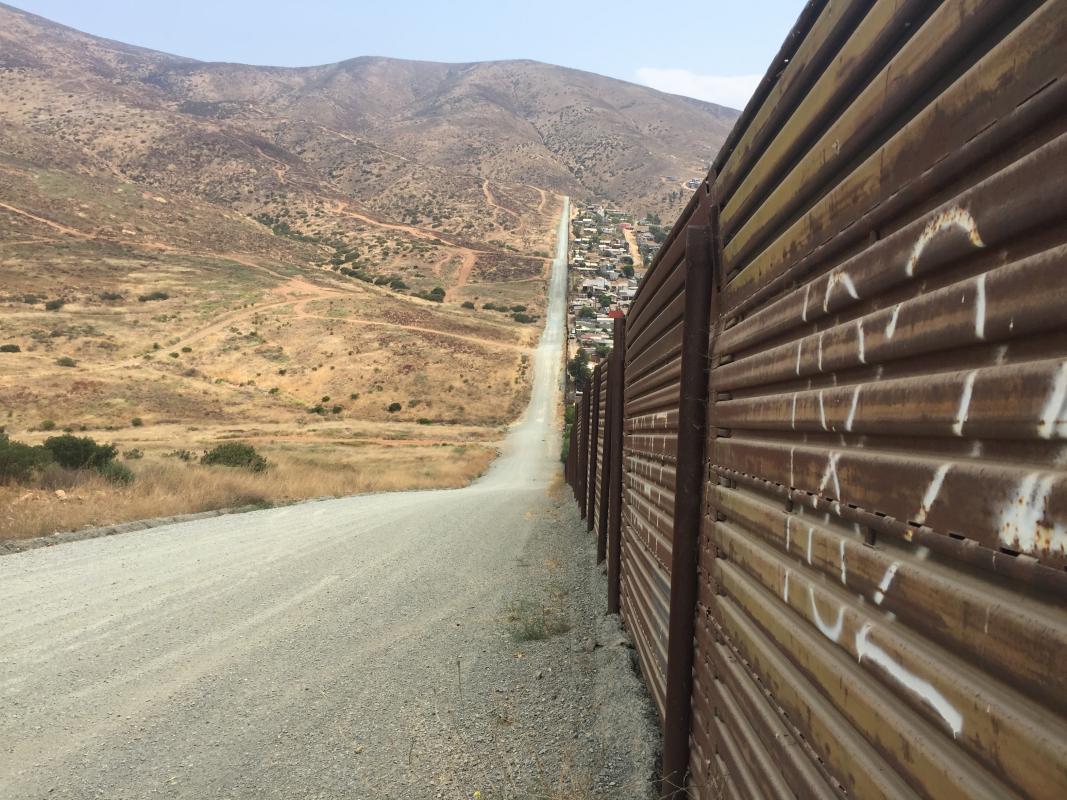 Photo: Primary fencing along the U.S.-Mexico border, leading into the Otay Mountain Reserve
Even still, Border Patrol is equipped with agents on ATV's and scopes to spot people who attempt to cross the border illegally.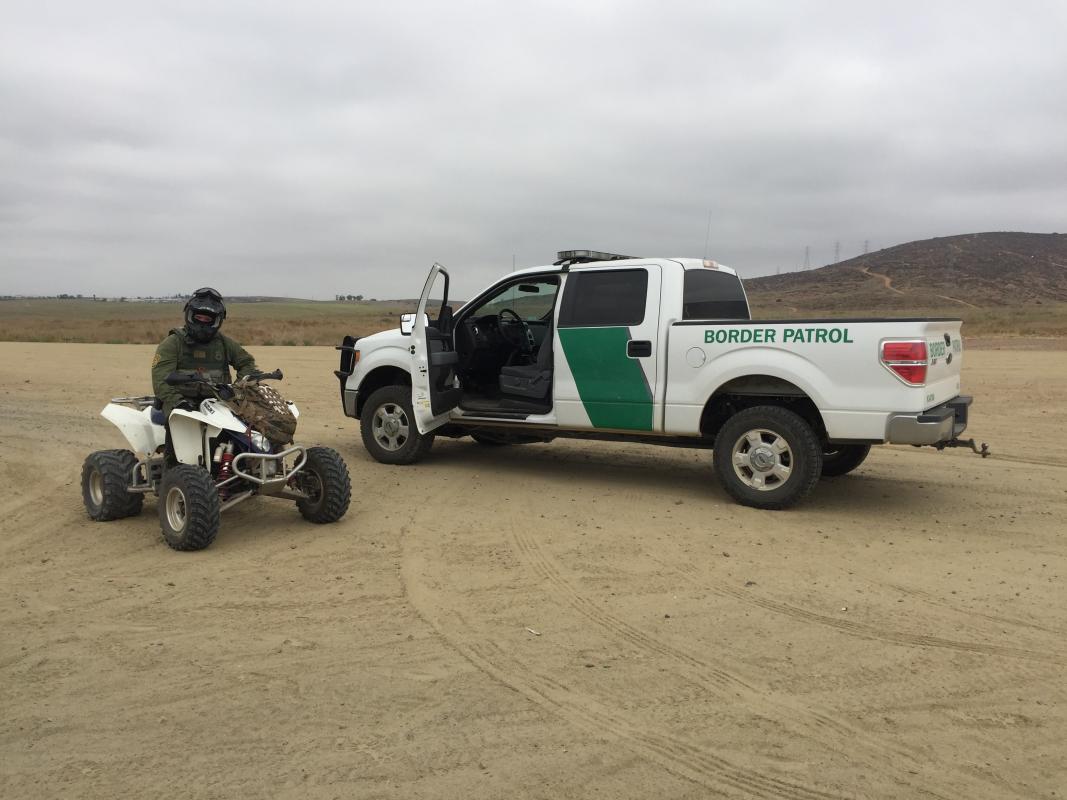 Photo: Border Patrol agent on an ATV patrolling the area 
With simple changes, such as putting concertina wire on the top of their secondary fencing, assaults on Border Patrol agents – which are anything from throwing rocks the size of softballs to the use of deadly weapons to actual physical confrontations – are drastically down from a high of 337 in 2008 to 58 year-to-date.
While unable to comment on President Trump's plans to build a wall along the U.S.-Mexico border and to increase the number of Border Patrol agents, Agent Michael did say that Border Patrol "can always use more manpower."
"I do believe somewhere Border Patrol is going to get 5,000 agents," she said. "That's what we're told. Now as far as how many are coming to San Diego sector, right now, it has definitely changed from the 80's and 90's when we were the busiest sector… In 1986 we had over 628,000 apprehensions just in this area alone. Now on the flipside, Arizona and Texas especially are dealing with big numbers like that. So where more manpower is gonna go, probably into those areas."
When asked whether they think apprehensions went down because they have fencing in the San Diego sector, both Agent Michael and Begg nodded yes.
"Fencing has primarily helped us be able to gain control over our border," said Agent Michael. "We didn't have any operational control. So with the fencing, that has helped us actually patrol on the border."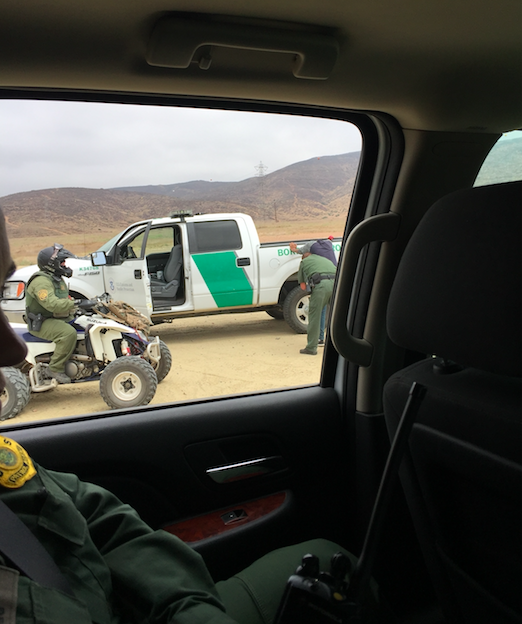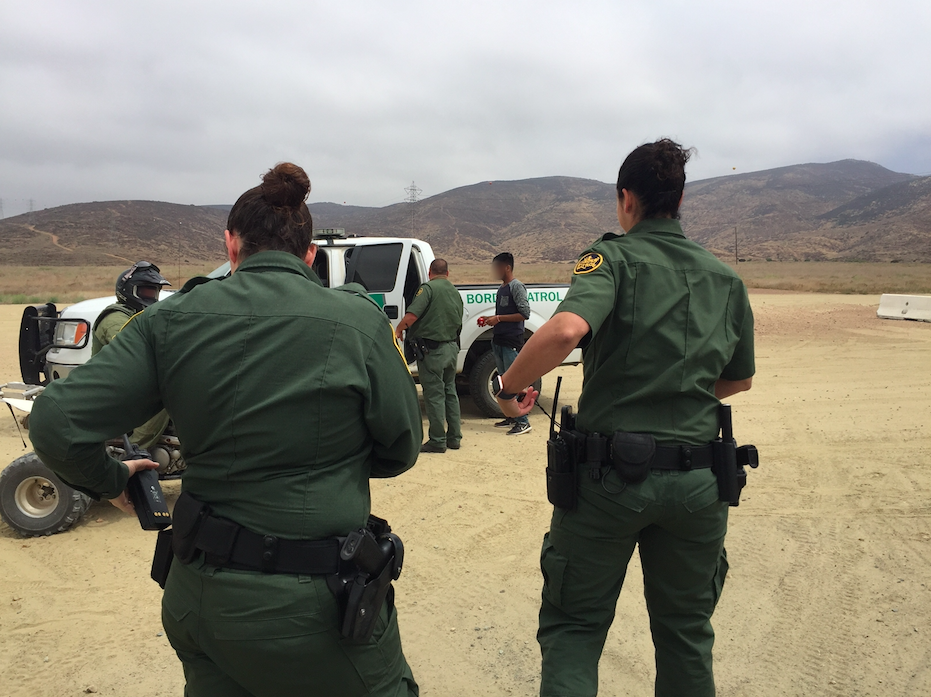 Photos: Apprehension of an illegal alien who jumped the primary fencing where the secondary fencing ends
She added that apprehensions and crime are down as a result of "a combination of many things," including stadium lighting along the border, the use of scopes, remote video surveillance systems and both daytime and nighttime cameras, more manpower, and so on.
"All of those things have proven to work for San Diego," she said. "This is something that's working for us."
Proving that infrastructure works, in combination with other factors, smugglers are looking to the sea to cross the border.
"Because we have been able to secure the border area, we now see a lot more maritime smuggling and threats," Agent Michael described. "Technically we are in charge of the whole 931 sea miles up the coast… But we've seen smuggling boats that go as far as San Francisco."
While infrastructure helps, it is not a solve-all, as smugglers and people who seek to get into the U.S. will do whatever it takes, including using saws and even blow torches to cut holes into the fencing.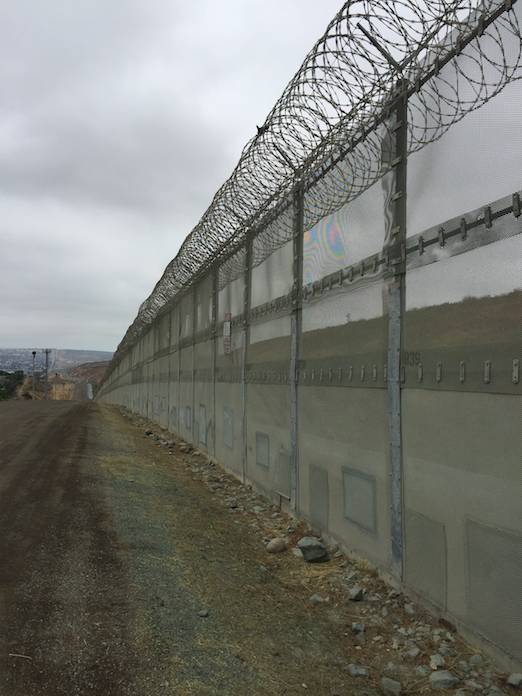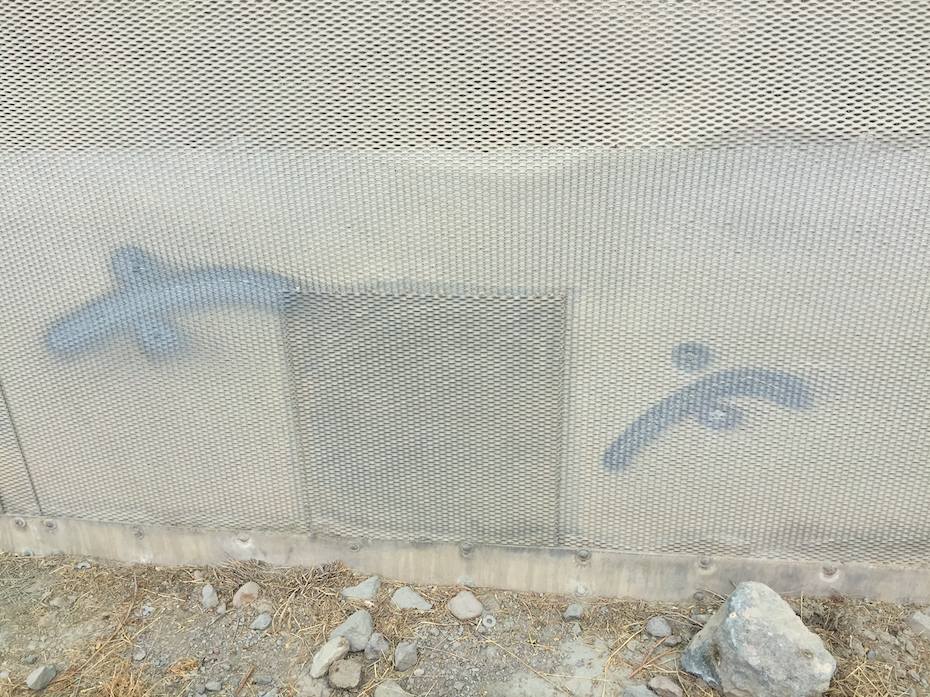 Photos: Hundreds of holes and cuts patched up, covered
"There will never be a zero number," said Agent Michael, "but that's why we're here."
It was extremely eye-opening to see what a border town looks like, literally sitting along the fence, burgeoning into the U.S.
You could hear dogs barking and music playing, see into buildings, smell trash burning.
"Until you see it for yourself, it's really hard to understand what Border Patrol agents see and do everyday," said Agent Michael.
Thank you for supporting MRCTV! As a tax-deductible, charitable organization, we rely on the support of our readers to keep us running! Keep MRCTV going with your gift here!