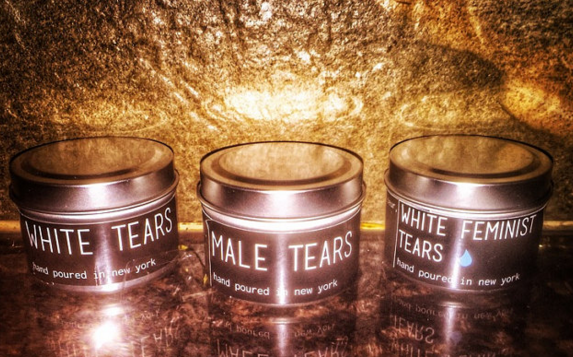 (Image source: Etsy)
A New York City woman has made thousands of dollars selling "white tears" and "male tears" for Christmas.
Promoted in the Huffington Post's Black Voices article, "15 Gifts That Will Deck The Halls With Black Pride," Zeyna Iman's Etsy store selling "white tears" candles has experienced tremendous success.
The store offers "white tears," "male tears," and "white feminist tears" candles.
The vanilla, lavender, lavender vanilla, or cinnamon chai scented candles promise to "help set the mood for your holiday season" and offset "the spoiled entitlement and pungent delusions of grandeur often present in oppressor tears' purest form."
As of Dec. 22, the store has made 232 sales.
According to MRCTV's rough calculations, Iman has made least $4,000 off her hatred of white people and men.
For the budget-conscious purveyor of white peoples' liquids made into scented objects, "gift set" options were available.
For a mere $50, individuals who rant about "privilege" could purchase a large gift set featuring three 8 oz. candles. Apparently, the pricey candles make an "excellent stocking stuffer."
A gift set of the standard sized 4 oz. candles sold for $35.
A mini gift set with three 2 oz. candles was also available for "just" $26.
Currently, the store is offering 2 oz. candles for $10, 6 oz. candles for $18, and 8 oz. candles for $22 each.
For comparison purposes, Wal Mart offers a set of six 6 oz. vanilla candles for $9.97.
Despite the prices, the reviews for Iman's Etsy store are all positive. One commenter who purchased a "male tears tin candle" wrote, "I loved this on principle even before it arrived, but then it did and it smells AMAZING to boot! THANK YOU."
According to a conversation on Iman's Twitter, she also takes request for custom candles. She is allegedly filling an order for "White Christian," "White Colonial," and "WASP" tears for a customer: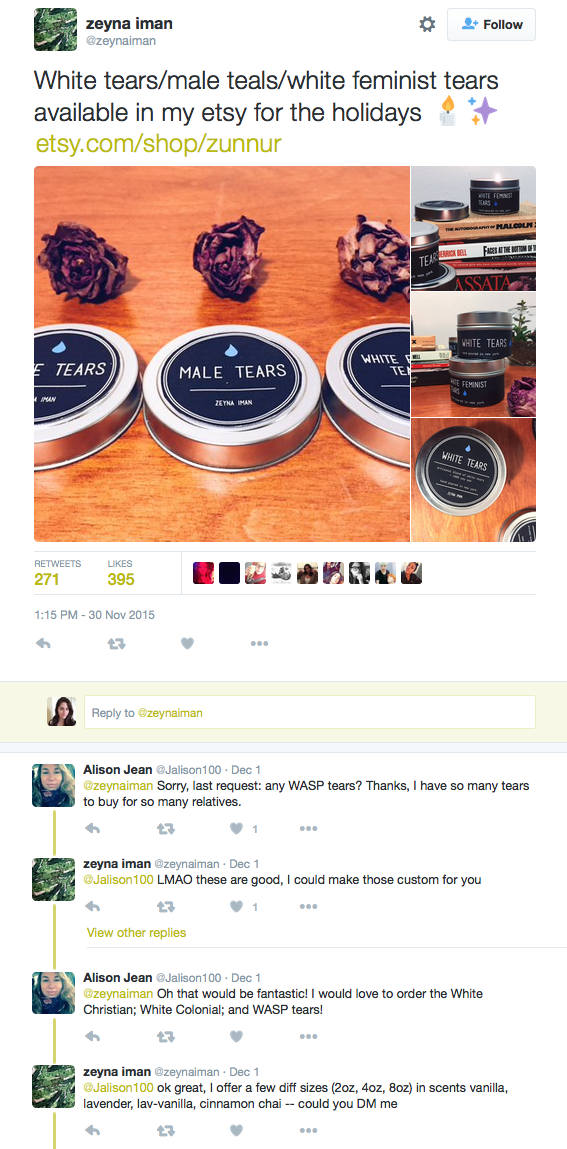 It is not known whether Iman will fill an order for "black tears," "female tears," or general "feminist tears."