A head resident advisor at George Mason University is reportedly hosting a program for resident assistants to learn the "implications behind white identity in America."
Screenshots obtained exclusively by MRCTV show Michael Odeh (whose real name is Michael Kamel) claims to be hosting the "Addressing Whiteness" "in-service" event on Nov. 16 at 6:30 p.m. in Piedmont Hall's multipurpose room: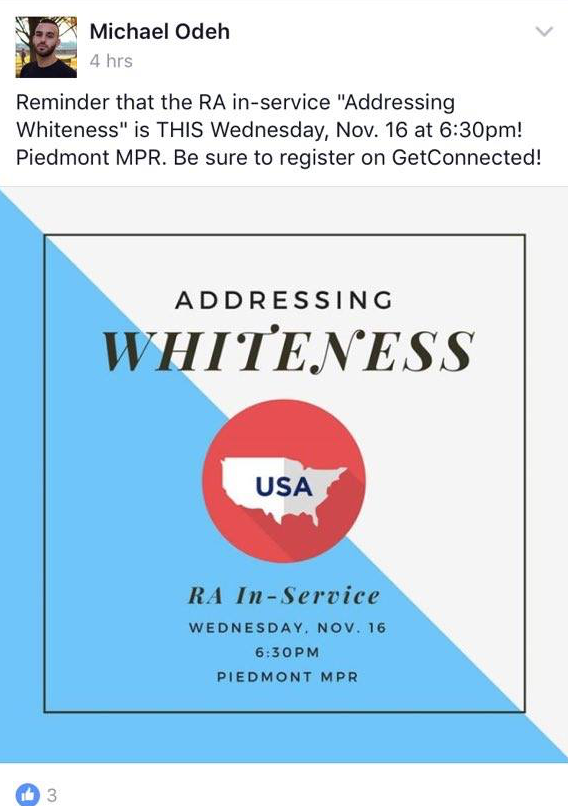 According to Odeh, by attending "Addressing Whiteness," RAs will "unpack the idea of whiteness, learning the history and implications behind white identity in America," which has allegedly been "called into question."
Despite the description of the event treating whiteness as a scourge that needs to be defeated, the event will reportedly be an "open, safe, and constructive space in which we will foster productive dialogue":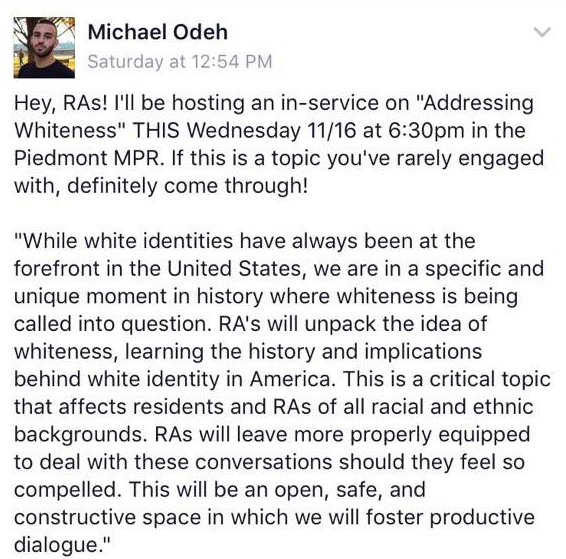 Public posts on Odeh's Facebook page show that he has been using his position as a RA to promote his personal beliefs regarding controversial political topics.
Odeh's bulletin board display for November, for instance, claims to include "Steps to stop sexism now," but explicitly notes it is "a guide mostly for men":
One of his bulletin board displays for October is about "INDIGENOUS PEOPLE'S DAY," while another is about Black Lives Matter:
The first bulletin board Odeh put up for the fall 2016 term asked, "Do you see what I see?" and attacked people for believing in "colorblind racism" (meaning people are racist for not caring about race). Odeh wrote, "To remedy racism, we must acknowledge race, ethnicity,  & culture" rather than not thinking it is important:
According to Odeh's LinkedIn page, in his role as a "head resident adviser," he enforces housing policy for 400 students.
The "Addressing Whiteness" event comes after GMU president Angel Cabrera issued a statement reaffirming the school's commitment to accepting everyone regardless of political views and race.
MRCTV Reader,
The liberal media are terrified of the truth, especially when it leads to uncomfortable questions about their own leftist worldview.
MRCTV is the multimedia division of MRC featuring original content and aggregated videos of the news, people, and events conservatives care about.
MRCTV relies on the support of our loyal readers (and video viewers) to keep providing the news and commentary that matter to the American people, not just stories that prop up the liberal agenda.
Make a donation today. Just $15 a month would make a tremendous impact and enable us to keeping shining the light where the liberal media are afraid to tread.
— The MRCTV Team
DONATE
Connect
Sign up for our MRCTV newsletter to receive the latest news.
Sponsored Links