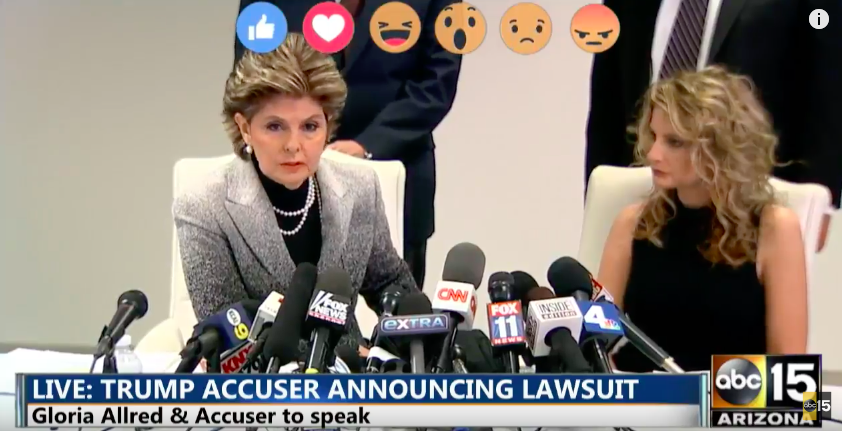 (Image via Screenshot)
Summer Zervos, a contestant on season five of "The Apprentice," announced on Tuesday that she filed a lawsuit against Donald Trump for defamation.
She made the announcement in a press conference in Los Angeles, Calif., with her lawyer and outspoken Trump critic Gloria Allred.
Allred read directly from the lawsuit transcript. The lawsuit alleges that Trump "told the world a bold-faced lie" when he said he never sexually assaulted Zervos or his other accusers and that he "debased and denigrated" Zervos with false statements about her, including never having met her in a hotel or denying her claims as "totally false."
The lawsuit claims that Zervos did not come forward when the sexual misconduct occurred back in 2007 because she had rationalized Trump's behavior as "a mistake or an isolated incident for which he might even be ashamed." 
After the release of the 2005 audio recording of Trump having a vulgar conversation about women surfaced back in October 2016, Zervos allegedly felt compelled to come forward. 
"On October 7th, when Trump's own recorded, crude and vulgar comments to Billy Bush on the Access Hollywood tapes recorded in 2005 where broadcast, it became clear that Mr. Trump's sexually inappropriate behavior toward Ms. Zervos was entirely consistent with Trump's own words and that his belief that he had the right to sexually assault women," the lawsuit reads. "Then, at the October 9th presidential debate, Mr. Trump told the world a bold-faced lie. He stated in response to a direct question from Anderson Cooper that he had not ever done any other things that he had bragged about to Billy Bush.
"For the first time, Summer Zervos saw Trump's behavior towards her for what it was – that of a sexual predator who had prayed on her and other women," the lawsuit continues. "She realized that she was just one of many women who had been victimized by Mr. Trump's predatory conduct. Ms. Zervos could no longer rationalize or excuse Mr. Trump's behavior by telling herself that his behavior had been a mistake or an isolated incident for which he might even be ashamed. Mr. Trump had no shame. His own boasting to Billy Bush made clear that his behavior was intentional.
"Ms. Zervos knew that Donald Trump had lied to the country and to the world, and knew the statements he made to Billy Bush were not just words or locker room talk, but were evidence of his pattern of misconduct towards women. Ms. Zervos felt a responsibility to inform the public of the true facts. It was unacceptable to stand by and allow a presidential candidate to lie openly, with impunity, to the American public."
The lawsuit goes on to allege that Trump had "kissed and groped [Zervos] without her consent, repeatedly," and that he had defamed her by denying the events ever occurred. 
"And what did Donald Trump the liar and misogynist do to cover up his lies? He lied again, and debased and denigrated Ms. Zervos with false statements about her… saying that, he never met Ms. Zervos at a hotel or greeted her inappropriately," the lawsuit reads. "He quickly went further, describing Ms. Zervos' experience along with others, 'Made up events that never happened.' '100% fabricated and made up charges.' 'Totally false.' 'Totally phony stories, 100% made up by women, many already proven false…'"
Zervos had accused Trump of sexual assault in a press conference on Nov. 11, just days after the presidential election.
She called for Trump to retract his threat to sue his accusers and said that she would not be "intimidated into silence."
It was rumored the days leading up to the election that her lawyer Allred paid Zervos $500,000 to come forward and accuse Trump of sexual misconduct.
Allred, who has represented other Trump supporters, denied any such a claim and CNN ruled it as "fake news."
Multiple women came forward last year to accuse Trump of sexual misconduct after the release of the 2005 "Access Hollywood" audio recording of him having a vulgar, behind-the-scenes conversation about getting away with groping and seducing women as a celebrity. 
Trump has denied any claims of sexual misconduct. He apologized for his remarks back in October.
During the presidential debate referred to in the lawsuit, Trump said that he was very "embarrassed" by the recording, but that it was merely "locker room talk" and nothing more.
Watch the news conference live here: