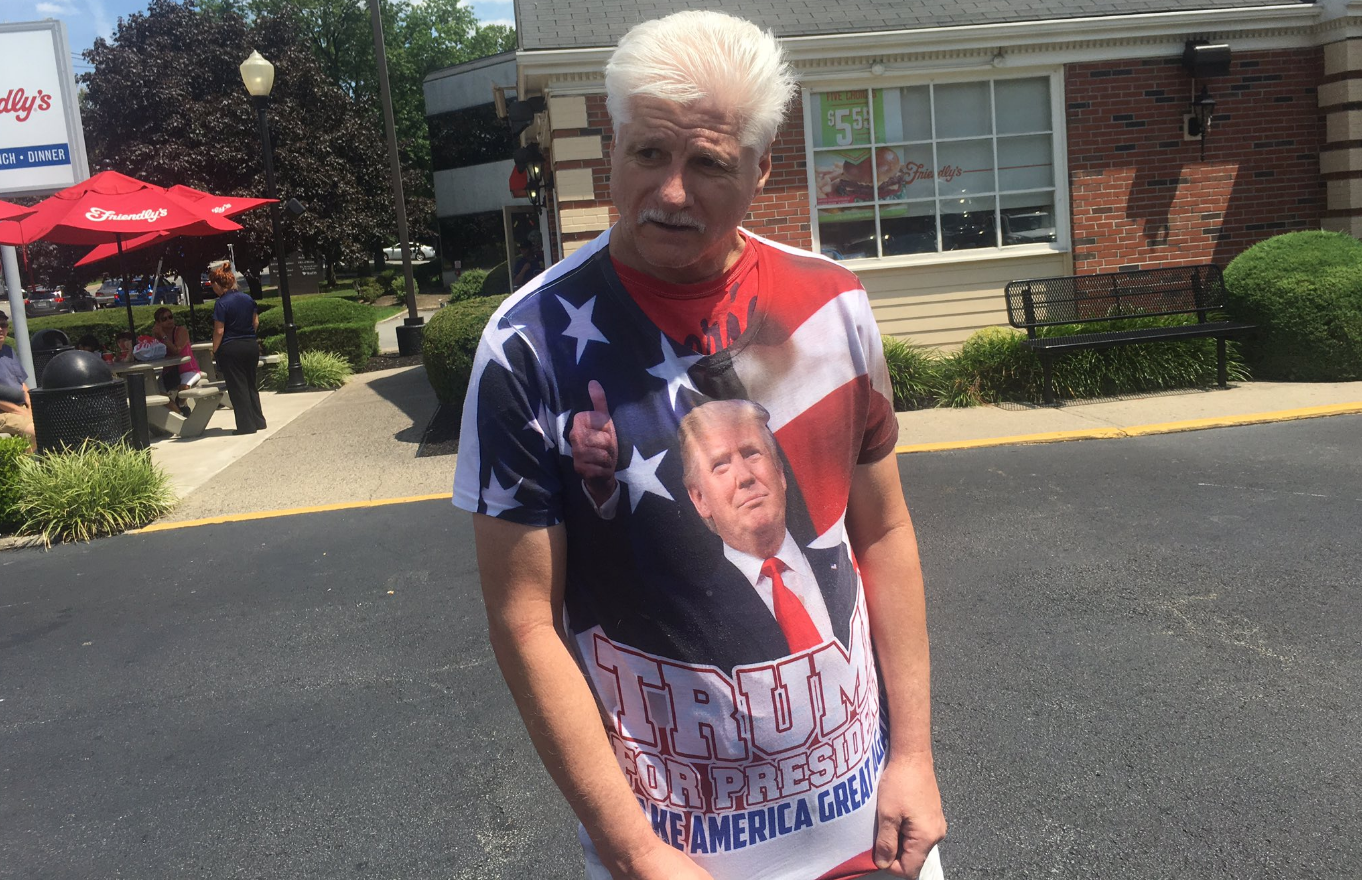 (Image source: Twitter)
An elderly man was allegedly beaten with a crowbar in a New Jersey parking lot over his shirt supporting Republican presidential candidate Donald Trump.
The 62-year-old victim, Peter Yankowski, was allegedly asked about his Trump shirt by a stranger driving by on the road. The man then followed Yankowski into the parking lot of a local Bloomfield Friendly's, and then inside the restaurant. When the two went back outside, the man attacked Yankowski with a crowbar.
Bloomfield Police spokesman Ralph Marotti told NJ.com, "The motorist inquired why (the man) was wearing the shirt, directing profanities at him. The (victim) continued to walk away as (the) motorist followed him."
Police say Yankowski endured injuries to his arms, hands, and thighs.
Yankowski told Pix 11 News, "He called me white trash, cursed me out, gave me the finger."
Yankowski said he responded by calling the man "a few expletives."
"I got angry because he called me a few names and whatever, and he kept on following me down the bridge. As I was walking, he kept on driving real slow," Yankowski told News 12 New Jersey.
One of the alleged witnesses, Friendly's employee Mimi Sonmez, said Yankowski called the suspect, a black man who appeared to be in his 20s, a racial slur.
"The white man, of course, he shout[ed] out, 'You're a n***er. You're not even supposed to be here. This is like [a] white people's spot,'" she said.
Yankowski admitted he did use a racial epithet against the man, and added, "I just wish I had the nerve up to just keep on walking and just disregard it. But I guess he struck a nerve."
According to police, the incident was prompted by the Trump shirt, as that's what caused the suspect to follow and threaten Yankowski in the first place.
Although Yankowski was the one who was physically assaulted with a weapon, the Independent claims the situation "highlights the atmosphere of aggressive racial tension sparked by the Trump campaign."
MRCTV Reader,
The liberal media are terrified of the truth, especially when it leads to uncomfortable questions about their own leftist worldview.
MRCTV is the multimedia division of MRC featuring original content and aggregated videos of the news, people, and events conservatives care about.
MRCTV relies on the support of our loyal readers (and video viewers) to keep providing the news and commentary that matter to the American people, not just stories that prop up the liberal agenda.
Make a donation today. Just $15 a month would make a tremendous impact and enable us to keeping shining the light where the liberal media are afraid to tread.
— The MRCTV Team
DONATE
Connect
Sign up for our MRCTV newsletter to receive the latest news.
Sponsored Links