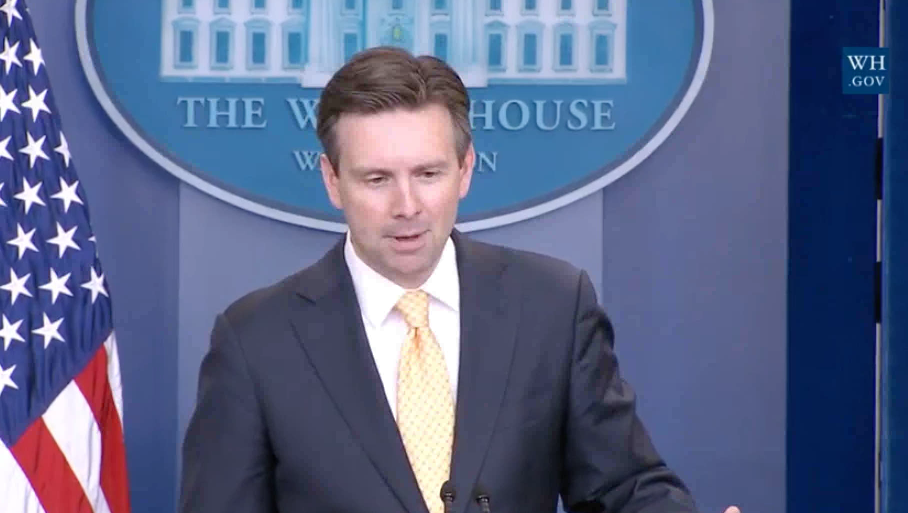 During a press briefing, White House press secretary John Earnest said the ability of reporters to cover the White House will be "affected" if press briefings are moved from one location at the White House to another.
Amidst claims that President-elect Donald Trump's administration may potentially move the White House press corps to another location on the White House grounds to accommodate more reporters, Earnest received a question about the symbolism and practicality of moving the briefing room from one location to another.
Earnest was asked, "What would you say—symbolically and practically—what message would he send to this country if this briefing room, if this workspace, were shut down and reporters were banished to another part of the White House grounds?"
Earnest responded by asserting that moving the White House press corps to another location on the White House ground will make it harder for reporters do their jobs and fulfill their democratic duties:
I alluded to this in my long comments at the beginning about how the United States has a rather unique arrangement between our government and the independent media.

The fact that all of you represent independent news organizations and have regular access to the White House, have regular access to workspace where you can do your job, have a venue where you can enter the room—the briefing room—at almost any hour, and can hold people in power accountable is really important. You also have access to senior White House officials right through this door. Right up the ramp, outside that door, you can come into my office, at a moment's notice, to ask questions and demand answers and demand transparency.

And as I mentioned earlier, sometimes that's a little inconvenient, sometimes it's uncomfortable, sometimes it's frustrating because you're unsatisfied with the answer that we've given, but it's necessary for the success of our democracy.
Earnest also referenced the symbolism of keeping the White House press briefings in the same location. He added that reporters will, somehow, will have their jobs "affected" if the press corps is moved:
I think there are some people who say, John, well, it's just symbolic to have the White House press corps in the White House. And I would say it's a really important symbol. It's more than just symbolism, but even taking that argument at face value, there is something symbolically important about all of you gathering here every single day to hold people in power accountable, to demand answers, to demand transparency, to demand facts.

And your ability to do that is going to be affected if you don't have regular access to the White House, if you're not able to do your job from the White House, and if there's not a natural readily available venue for you to hold senior officials accountable. So this is again, a relationship that President Obama believed was important to invest in. He made this a priority and it doesn't mean because he liked all your coverage.
Earnest was then interrupted by a reporter who questioned Obama's commitment to being accessible to the press by saying Obama "could've had more press conferences."
"He probably could have, and again, I think this is exactly a good illustration. You should be asking for more and you should say we appreciate President Obama's investment that there's more than he could've done. That's the nature of this relationship. It means that you're doing your job and it also means the President of the United States is doing his job. And I don't know of the incoming administration is going to see it that way, but I hope they do."
Thank you for supporting MRCTV! As a tax-deductible, charitable organization, we rely on the support of our readers to keep us running! Keep MRCTV going with your gift here!