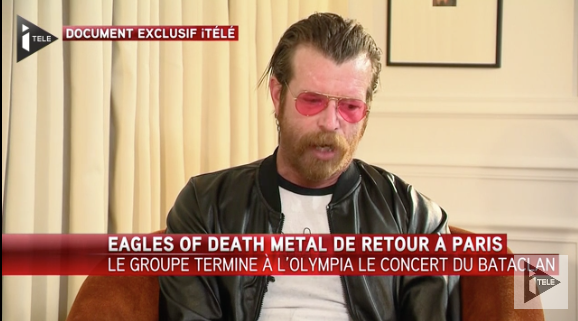 Following the November Paris terrorist attack that killed nearly 90 during an Eagles of Death Metal concert at the Bataclan, frontman Jesse Hughes is speaking out against gun control and calling for everyone to be armed.
In an emotional interview with French television station iTélé, Hughes denounced the idea that gun control would have prevented the terrorist attack:
Did your French gun control stop a single f---ing person from dying at the Bataclan? And if anyone can answer 'yes,' I'd like to hear it, because I don't think so. I think the only thing that stopped it was some of the bravest men that I've ever seen in my life charging head-first into the face of death with their firearms.
Hughes also called for universal gun ownership, claiming that "until nobody has guns, everybody has to have them":
Maybe I know people will disagree with me, but it just seems like God made men and women, and that night guns made them equal. And I hate it that it's that way. I think the only way that my mind has been changed is that maybe that until nobody has guns, everybody has to have them.

Because I've never seen anyone that's ever had one dead, and I want everyone to have access to them, and I saw people die that maybe could have lived, I don't know... I wish I knew for sure if they could have had a better chance because there were some real angels, real wonderful people in that show that aren't alive today and I really wish they were.
During the interview, Hughes stated he believes the Bataclan was targeted for its "support for Israel" and for "the simple fact there are folks who might be Jewish that own it."
The Eagles of Death Metal returned to Paris to perform three months after the attack.