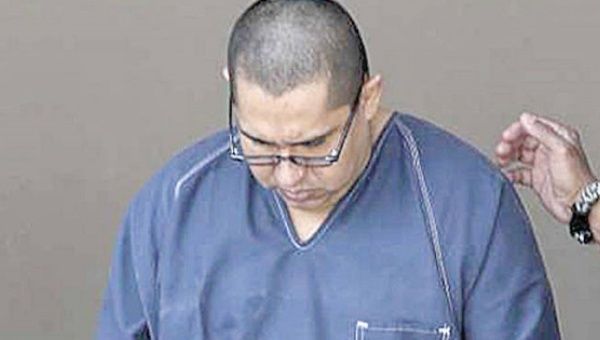 Marciano Millan Vasquez just received seven life sentences in prison. And it serves him right.
Millan Vasquez, also known as "Chano," was a high-ranking member in Los Zetas, ones of the largest and most dangerous Mexican cartels that traffics illegal substances over the U.S. border.
Chano served as a hit-man for the Los Zetas and controlled the cartel's business in the Piedras Negras region, which is located right on the border of the U.S. and Mexico.
Vasquez was apprehended in San Antonio in July of 2015 and went to trial a year later. On July 19 of last year, a jury found Vasquez guilty of a laundry list of charges, including killing while engaged in drug trafficking, conspiracy to distribute and import marijuana, conspiracy to distribute methamphetamine, and employing minors in a drug crime. In addition to drug trafficking charges, Millan Vaquez was charged with the murders of nine people in both Texas and Mexico between the years of 2009 and 2015, including a six-year-old girl. 
This past Friday, a U.S. Federal court in San Antonio ordered Chano to serve seven life-sentences in prison. U.S. Attorney Richard L. Durbin Jr., who prosecuted the case, said of the decision: 
"Without mercy or compunction he brutally murdered anyone and everyone as it suited him and his cartel, at times inflicting the cruelest of pain, forcing relatives to watch their loved ones murdered before he turned his blades on them. Today's sentence marks an end to his reign of terror over the drug plaza in Piedras Negras."
The stories of Chano's brutality require a strong stomach. He is known to have slowly executed people while forcing their family members to watch. Testimony from his trial revealed that he and the Los Zetas were responsible for a "bloody massacre" in Piedras Negras in 2011. His trial also revealed that he had overseen the smuggling of over 100,000 kilograms of marijuana into the United States. 
We can be thankful to the U.S. Border Patrol, the U.S. Marshals Service, the FBI and several other U.S. federal and local law enforcement officials for taking this dangerous man off the streets. 
Thank you for supporting MRCTV! As a tax-deductible, charitable organization, we rely on the support of our readers to keep us running!Keep MRCTV going with your gift here!
MRCTV Reader,
The liberal media are terrified of the truth, especially when it leads to uncomfortable questions about their own leftist worldview.
MRCTV is the multimedia division of MRC featuring original content and aggregated videos of the news, people, and events conservatives care about.
MRCTV relies on the support of our loyal readers (and video viewers) to keep providing the news and commentary that matter to the American people, not just stories that prop up the liberal agenda.
Make a donation today. Just $15 a month would make a tremendous impact and enable us to keeping shining the light where the liberal media are afraid to tread.
— The MRCTV Team
DONATE
Connect
Sign up for our MRCTV newsletter to receive the latest news.
Sponsored Links