Leftists and leftist politicians usually love to trot out Ivy League studies — when it serves their purposes. All of a sudden, a study done by a Harvard educated researcher isn't good enough because a study he did found information that wasn't flattering to failed presidential candidate Hillary Clinton's narrative that she was cheated out of the presidency in 2016.
Dr. Robert Epstein, who earned his Ph.D in psychology from Harvard University, has taken Clinton to task for the "blatant lies" she told about him and his study, which claims that Google shows "pro-Hillary bias" during the 2016 election.
Epstein testified in July, in front of Congress, that he isn't a Republican or conservative.
Clinton said Epstein's study had been "debunked" in a Monday tweet that was in response to a tweet from President Donald Trump earlier in the day.
Here's Trump's tweet, followed by Clinton's response: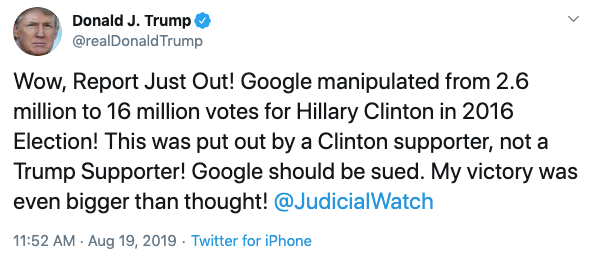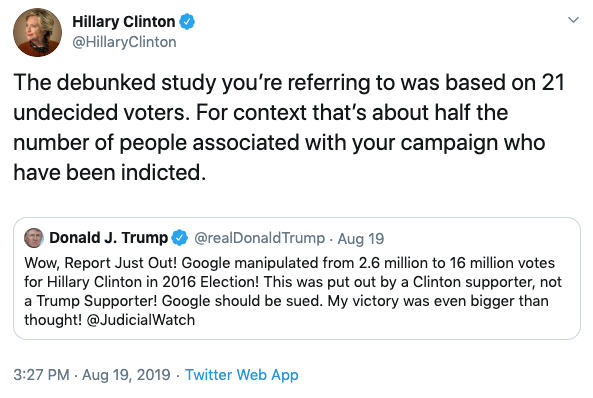 In the interest of fairness, Epstein addressed the context of Trump's tweet concerning his study:
After Clinton sent out her tweet, and multiple left-leaning outlets called out Epstein's study — POLITICO even went so far as to call it a "new voter conspiracy theory" — Epstein took to Twitter to display his dismay over Clinton's disparagement. Epstein notes that he "strongly supported" Clinton "for many years."
Take a look: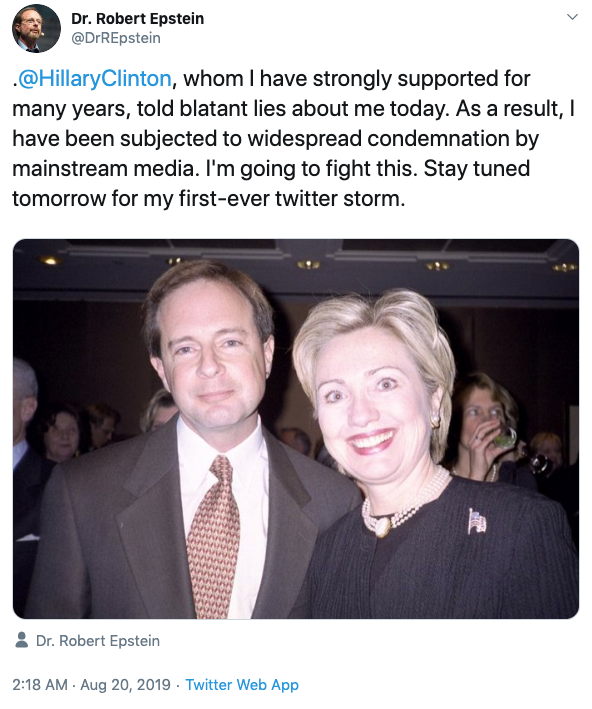 As noted at the end of the previous tweet, Epstein followed through and posted multiple tweets on Tuesday, all of which referenced Clinton, aimed at providing backup for his study (Again, Epstein notes how he and his family have supported the Clinton's "for decades"):
That is a lot to unpack.  Epstein posed a very interesting question in one of the tweets, again directed at Clinton, that should at least make the former First Lady question whether she should keep up her claim that Epstein's study was "debunked."
"If Big Tech cos. [companies] support the same candidate in 2020, they can shift 15M votes her way without people knowing how the shift occurred," Epstein wrote before asking his question. "If you had a choice between preserving #democracy & putting your candidate in office, which would you choose?"
That shouldn't only be a question for Clinton, but for every other American who worries about the validity of the election process.
H/T: Timcast
MRCTV Reader,
The liberal media are terrified of the truth, especially when it leads to uncomfortable questions about their own leftist worldview.
MRCTV is the multimedia division of MRC featuring original content and aggregated videos of the news, people, and events conservatives care about.
MRCTV relies on the support of our loyal readers (and video viewers) to keep providing the news and commentary that matter to the American people, not just stories that prop up the liberal agenda.
Make a donation today. Just $15 a month would make a tremendous impact and enable us to keeping shining the light where the liberal media are afraid to tread.
— The MRCTV Team
DONATE
Connect
Sign up for our MRCTV newsletter to receive the latest news.
Sponsored Links