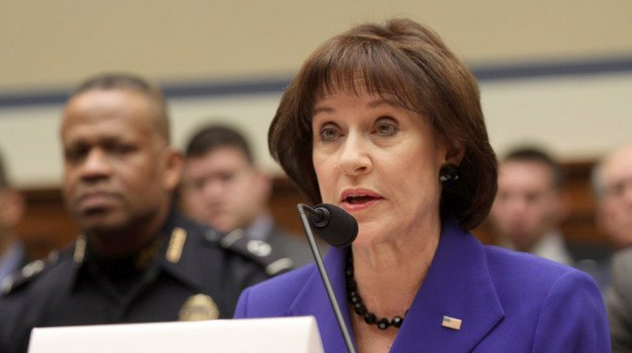 Image via Twitter
The Department of Justice announced Friday that no Internal Revenue Services official, including former IRS official Lois Lerner, would face criminal charges for allegedly targeting political groups, such as the Tea Party, applying for tax-exempt status.    
In a letter to members of Congress, the DOJ conceded that the IRS mismanaged applicants, but found "no evidence" during its "exhaustive probe" that there was any attempt by IRS leadership to "obstruct justice."
"Our investigation uncovered substantial evidence of mismanagement, poor judgment, and institutional inertia, leading to the belief by many tax-exempt applicants that the IRS targeted them based on their political viewpoints," the letter reads.
"But poor management is not a crime," writes the DOJ.
"We found no evidence that any IRS official acted based on political, discriminatory, corrupt, or other inappropriate motives that would support a criminal prosecution. We also found no evidence that any official involved in the handling of tax-exempt applications or IRS leadership attempted to obstruct justice," the announcement goes on.
Republicans such as Rep. Paul Ryan (R-Wis.) and Rep. Jason Chaffetz (R-Utah) said Friday that they have no intention of abandoning the probe, Politico reports.
"Despite the DOJ closing its investigation, the Ways and Means Committee will continue to find answers and hold the IRS accountable for its actions," said committee Chairman and House Speaker-in-waiting Paul Ryan.
"As a coequal branch of government, Congress will continue to seek accountability for the American people,"House Oversight Chairman said Jason Chaffetz said.
"A clear message must be sent that using government agencies to stifle citizens' freedom of speech will not be tolerated. If the administration won't send that message, Congress will."