Now that the election is over, even the leftists on CNN are reporting that Hunter Biden is under investigation by the Justice Department, which is examining his overseas business dealings.
Joe Biden's son is under federal investigation for possible tax fraud, and there's reports the probe may involve a laptop that belonged to Hunter Biden, which contains communications on some of his business dealings in both China and Ukraine.
"I learned yesterday for the first time that the U.S. Attorney's Office in Delaware advised my legal counsel, also yesterday, that they are investigating my tax affairs," Hunter Biden said in a statement released by Joe Biden's transition team.
"I take this matter very seriously but I am confident that a professional and objective review of these matters will demonstrate that I handled my affairs legally and appropriately, including with the benefit of professional tax advisors."
"President-elect Biden is deeply proud of his son, who has fought through difficult challenges, including the vicious personal attacks of recent months, only to emerge stronger," the transition team added.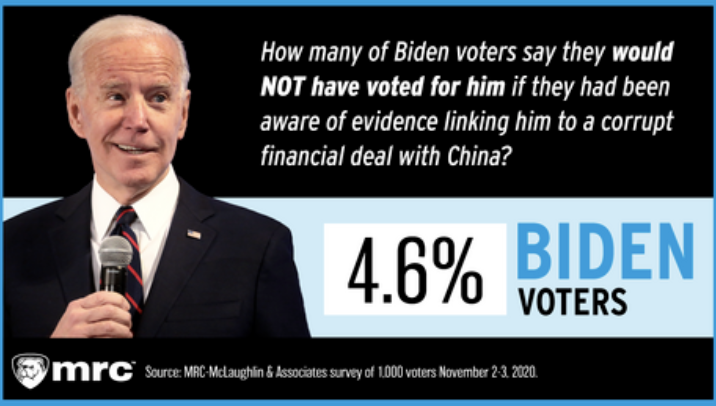 Stories about Hunter Biden's laptop were squashed by the leftist media and big-tech social media companies. The Media Research Center has released a report showing that 36 percent of Biden voters were NOT aware of the evidence linking Joe Biden to corrupt financial dealings with China through his son Hunter. Thirteen percent of these voters (or 4.6% of Biden's total vote) say that had they known these facts, they would not have voted for the former Vice President.