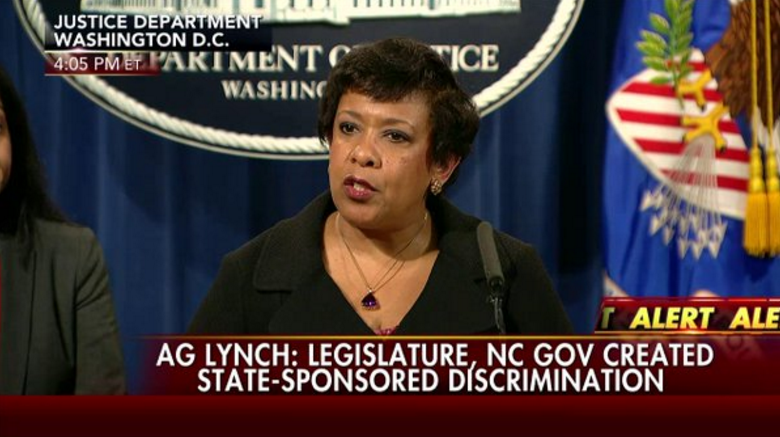 (Image via Twitter)
Attorney General Loretta Lynch held a press conference on Monday in response to the lawsuit filed by the state of North Carolina against the Department of Justice in defense of its House Bill 2 law.
During her remarks, Lynch announced that the DOJ will also be filing a lawsuit, suing North Carolina for "state-sponsored discrimination."
"We are now moving forward," she said. "Today, we are filing a federal civil rights lawsuit against the state of North Carolina, Governor Pat McCory, the North Carolina Department of Public Safety, and the University of North Carolina. We are seeking a court order declaring HB2's restroom restriction impermissibly discriminatory as well as a state-wide bar on its enforcement." 
"Now while the lawsuit currently seeks declaratory relief, I want to note that we retain the option of curtailing federal funding to the North Carolina Department of Public Safety and the University of North Carolina as this case proceeds," she noted.
Listen to her remarks in the video clip below.
The Attorney General repeatedly compared this case to historical cases of racial segregation and same-sex marriage.
"This law provides no benefit to society and all it does is harm innocent Americans," Lynch argued. "Instead of turning away from our neighbors, our friends and our colleagues, let us instead learn from our history and avoid repeating mistakes of the past."
"State-sanctioned discrimination never looks good and never works in hindsight," she continued. "It was not long ago that states like North Carolina had signs over their bathrooms…"
Watch for more below.
Similarly, White House spokesman Josh Earnest called the HB2 law "mean-spirited" and inconsistent with American values during Monday's press briefing. 
To watch Lynch's remarks in full, click here.