You're telling me that the "progressive" push for more and higher taxes discourages business from coming to your city or state? Nah. Oh, wait. It does?
In possibly one of the biggest gaffes in the history of the state of New York, the state's politicians complained so much about the tax breaks that the proposed Amazon headquarters, slated to reside in Long Island, Queens, will no longer be built after Amazon had enough of the whining.
According to a statement on Amazon's website:
After much thought and deliberation, we've decided not to move forward with our plans to build a headquarters for Amazon in Long Island City, Queens. For Amazon, the commitment to build a new headquarters requires positive, collaborative relationships with state and local elected officials who will be supportive over the long-term. While polls show that 70% of New Yorkers support our plans and investment, a number of state and local politicians have made it clear that they oppose our presence and will not work with us to build the type of relationships that are required to go forward with the project we and many others envisioned in Long Island City[…]

We do not intend to reopen the HQ2 search at this time. We will proceed as planned in Northern Virginia and Nashville, and we will continue to hire and grow across our 17 corporate offices and tech hubs in the U.S. and Canada.
Amazon also said that they were "deeply grateful" to both New York Governor Andrew Cuomo and New York City Mayor Bill de Blasio before thanking them a second time.
"Thank you again to Governor Cuomo, Mayor de Blasio, and the many other community leaders and residents who welcomed our plans and supported us along the way," the statement read. "We hope to have future chances to collaborate as we continue to build our presence in New York over time."
Socialist Rep. Alexandria Ocasio-Cortez (D-N.Y.) claimed victory after news broke of Amazon's decision to not build in her state, a victory lap that includes the loss of 25,000 new jobs in New York. 
Here's her super self-righteous, "workers of the world unite" type tweet: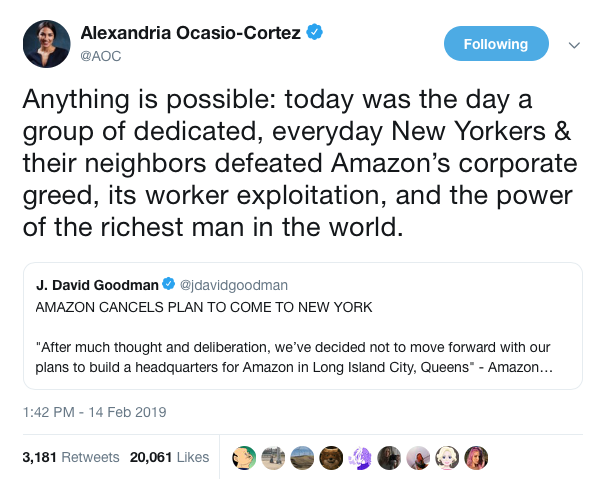 Amazon also was planning to essentially use the money they saved on the tax breaks building the New York office. The Associated Press reported that Amazon was planning on spending $2.5 billion in building it's second headquarters in her state, almost leveling out the $3 billion in tax subsidies Amazon would've received for the move.
Essentially, AOC is dancing for the loss of jobs and money that would've come into her own state. The cost to local businesses that would've benefitted from the addition of so many new workers, because of those workers spending the money they make locally, is immeasurable.
I thought she had an economics degree?