(Image: Mercury Press)
Two parents in Scotland discovered they truly had "man's best friend" when their dog's repeated attention to their son helped alert them to their child's vision problems.
Sharlene and Mark Snr, of South Lanarkshire, Scotland, always enjoyed how attentive and loving their dog Alfie had been with their five-year-old son, Mark Jr., since he was born. Alfie's breed is a newer one: he's a Dogue de Bordeaux, a breed that was acknowledged by the American Kennel Club (AKC) in 2008.
However, the Snrs constantly wondered why the dog would only show his companionship on the boy's right side.
Sharlene told the AKC:
They've grown up together and we always just thought it was a funny coincidence that Alfie would only sit or walk on one side of him.

We never thought much more of it. Even when they sat on the couch together, Alfie would always prop himself to Mark's right.
When Mark was ready to start school, the family went to the optometrist to get his eyes checked. The diagnosis from the eye doctor was a revelation to the family.
Mark had been diagnosed with astigmatism, which causes a blurring of vision by preventing light from properly reaching the retina. It can also be an early indicator of blindness if left untreated.
Sharlene continued:
Basically, the signals between his right eye and his brain weren't working. If they hadn't spotted it when they did, it could have affected his left eye over time and he would have gone totally blind.

They have to spot it before someone turns seven or it's nearly impossible to correct. Mark never mentioned it because he didn't know any different.

It's mad when the dog understands what's going on before the humans.
As a treatment to help Mark's eyesight, the child began wearing a patch on his good left eye in order to make the right eye stronger.
Alfie still lovingly watches over Mark protects him, and never leaves his side.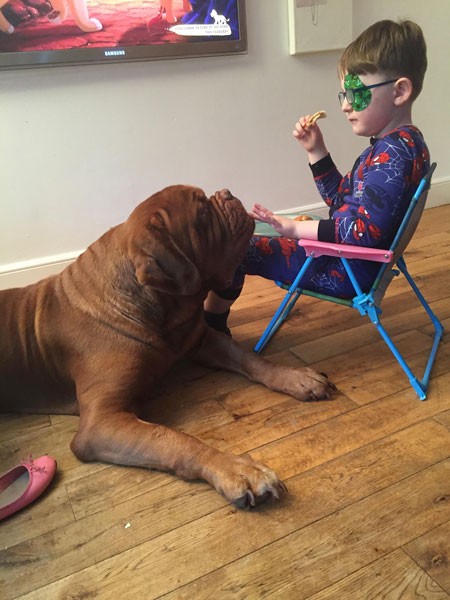 (Image: American Kennel Club)
Sharlene stated:
Mark definitely owes a lot to Alfie. It's like Alfie has superpowers and knows when there's something wrong.

They have this unbelievable bond. Alfie's instinct is incredible. He knows when something is wrong with Mark before we do, even when he's just feeling unwell.
Alfie's amazing diagnosistic abilitites haven't been limited to Mark.
Sharlene told AKC:
It doesn't end there. Since August last year we noticed Alfie would sniff at the back legs of our other dog, Cass.

We took Cass to the vet in December and she was diagnosed with a tumour in her back leg, exactly where Alfie had been sniffing and licking.

We couldn't believe it. I think he was trying to lick away the cancer. He certainly knew about it before anyone else.

Cass had chemotherapy, but she passed away in January after having a massive stroke. Since then, Alfie refuses to eat and he's lost 22 pounds.
If treated properly and cared for, pets can be one of the most loving and loyal parts of our lives. Maybe we human beings could learn a thing or two about caring for one another from a pet like Alfie.