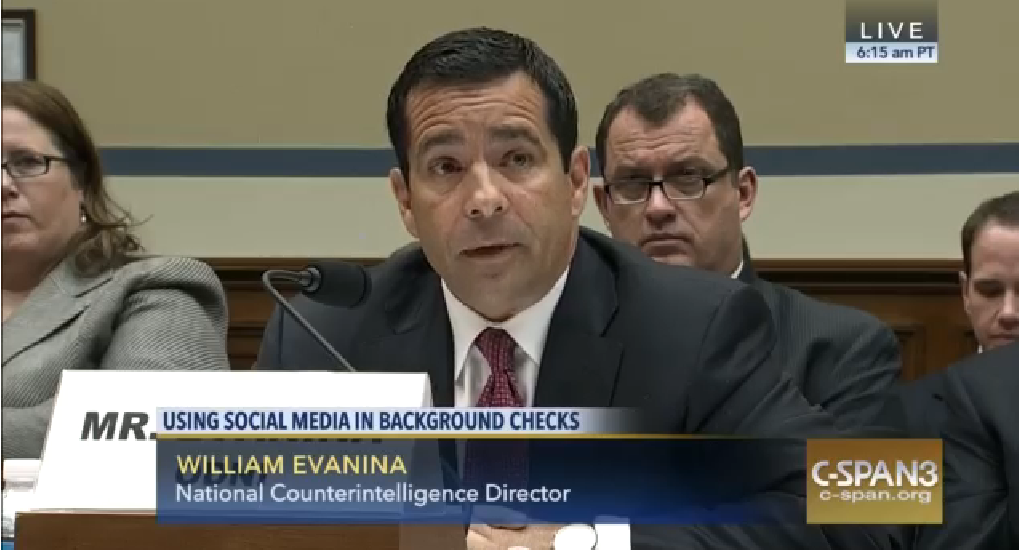 As part of the Office of the Director of National Intelligence's new pilot program to search the "public" social media posts of individuals seeking security clearance, a federal law requires the DNI to look for "changes in ideology."
A representative from the organization, however, assures the agency will not monitor political ideology.
During a May 13 House Oversight Committee hearing on "incorporating social media into federal background checks," Rep. Stephen Lynch (D-Mass.) referenced the "Consolidated Appropriations Act of 2016."
The appropriations act, or omnibus spending bill, requires the DNI to look at "publicly available information, whether electronic, printed, or other form, including relevant security or counterintelligence information about the covered individual or information that may suggest ill intent, vulnerability to blackmail, compulsive behavior, allegiance to another country, change in ideology, or that the covered individual lacks good judgment, reliability, or trustworthiness."
The bill also says social media checks must be done "at least" twice every five years to ensure those currently holding security clearance are still eligible to hold security clearance.
Rep. Thomas Massie (R-Kent.) asked William Evanina, the Director of National Counterintelligence and Security Center for the DNI, whether social media accounts will be monitored for political ideology.
Massie asked, "Do you take into account political support when you're doing background research in social media?"
Evanina responded, "No, we do not. I think it's important for the committee to understand the investigators who do background investigations are very well trained and they follow the federal investigative standards. And there are plenty of policies that they put forth in their rigorous background investigations, and they conduct investigations on information obtained that's relevant to whether or not you are capable of obtaining and holding a security clearance. So political contributions would not be one of those."
Asked by Massie whether someone who posts on social media about their support for a candidate who is strong on the Fourth Amendment will be monitored, Evanina said, "Absolutely not."
The DNI's claim that they will not take political affiliation into account when reviewing social media posts, however, is misleading at best. A social media post in support of the Islamic State—which is considered political in nature—will certainly be flagged by the DNI and deny the poster security clearance.
Given the Department of Homeland Security has released a report outlining the dangers of alleged right-wing extremism, it is unclear from Evanina's testimony whether someone will have their security clearance denied or revoked if they post photos of things like the Gadsden flag or express support for the Tenth Amendment.
In his questions to Evanina, Massie also did not specifically ask about whether an individual will have their social media accounts monitored if they show a change from being anti-privacy rights to pro-privacy rights. 
Considering the omnibus spending bill requires the DNI to look for a "change in ideology" for prospective security clearance applicants (as well as those who already hold positions with security clearance), it is also unclear from Evanina's testimony whether someone will be denied security clearance if they change their posts from being, for instance anti-state's rights to pro-state's rights, or even from anti-Islam to pro-Islam.
So far, whether the DNI will monitor Facebook, Twitter, and other social media accounts for political ideology or "change in ideology" remains unknown.
But it's worth remembering the DNI doesn't exactly have the best record of telling the truth to Congress.