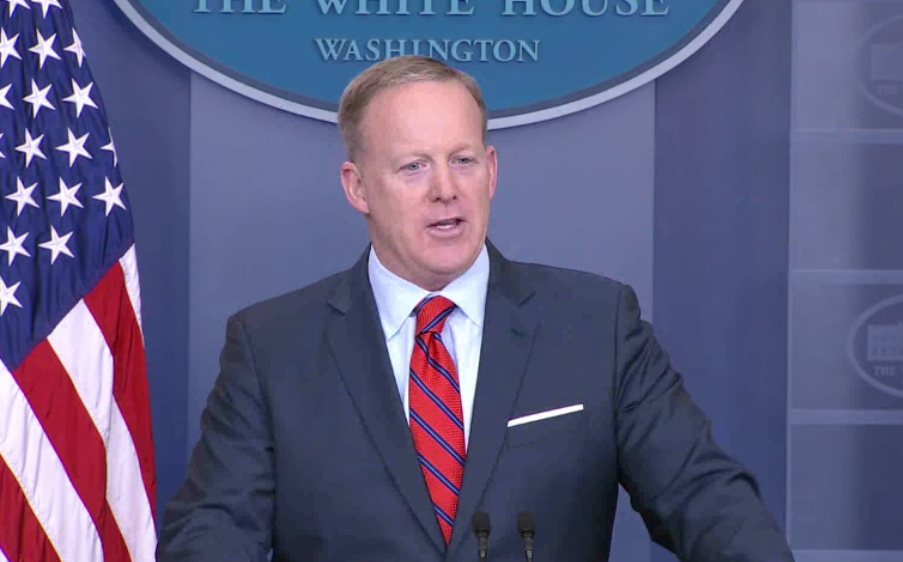 In an email sent out Tuesday evening, Democratic National Committee Chair Tom Perez attempted to fundraise off White House Press Secretary' Sean Spicer's comments that even Hitler did not use chemical weapons on his own people, claiming this shows the White House has a "pattern of anti-Semitism."
On Tuesday, White House Press Secretary Sean Spicer made a gaffe when he tried to say the atrocities committed by German dictator Adolf Hitler were not as bad as the recent crimes committed by Syrian President Bashar Assad.
During his remarks, Spicer said, "You had someone as despicable as Hitler who didn't even sink to using chemical weapons."
Spicer has since issued multiple apologies for his comments.
The fundraising email obtained by MRCTV is titled, "re: a pattern of anti-Semitism," and calls Spicer's comment "shocking and tone-deaf."
"Even if this was a case of simple ignorance, there has been a vein of anti-Semitism running through the Trump administration since Day One," Perez's email claims.
In Perez's email, he claims Spicer's statement is "neo-Nazi," saying that "white supremacist groups that have become emboldened since Donald Trump first announced his campaign for president."
Perez's email goes on to say Trump has "dismissed the rise in hate crimes" against Jews since he was elected (though many of the ones that have received media attention have turned out to be hoaxes). Perez also asserts Trump has "dismissed" the threats against the Jewish community -- which the president addressed in his first joint-address to Congress -- and ignored the desecration of Jewish cemeteries, even though Trump condemned them and Vice President Mike Pence even volunteered to clean up the damage at one of the cemeteries.
It should be noted that the bomb threats that Perez references were not made by the allegedly emboldened "neo-Nazis and white supremacist groups," but rather a liberal former Intercept journalist who hated whites and an Israeli-American Jewish teenager.
Perez continues to call White House strategist Steve Bannon a "white supremacist," although he references no claim made by Bannon that would constitute him being considered a white supremacist:
And Trump has elevated white supremacists to senior positions in his administration. At one point, he even rearranged the National Security Council to include his white supremacist chief strategist, Steve Bannon.
He also neglects to mention that, according to reports, Bannon was recently removed from his position on the National Security Council.
Perez then makes the outlandish comment that the administration has not rejected or denounced anti-Semitism, and that the administration needs to apologize for its apparent "pattern of anti-Semitism.
It's worth mentioning, of course, that Trump's own daughter, Ivanka, is Jewish by conversion, while his son-in-law and his grandchildren are ethnically Jewish.
Thank you for supporting MRCTV! As a tax-deductible, charitable organization, we rely on the support of our readers to keep us running! Keep MRCTV going with your gift here!