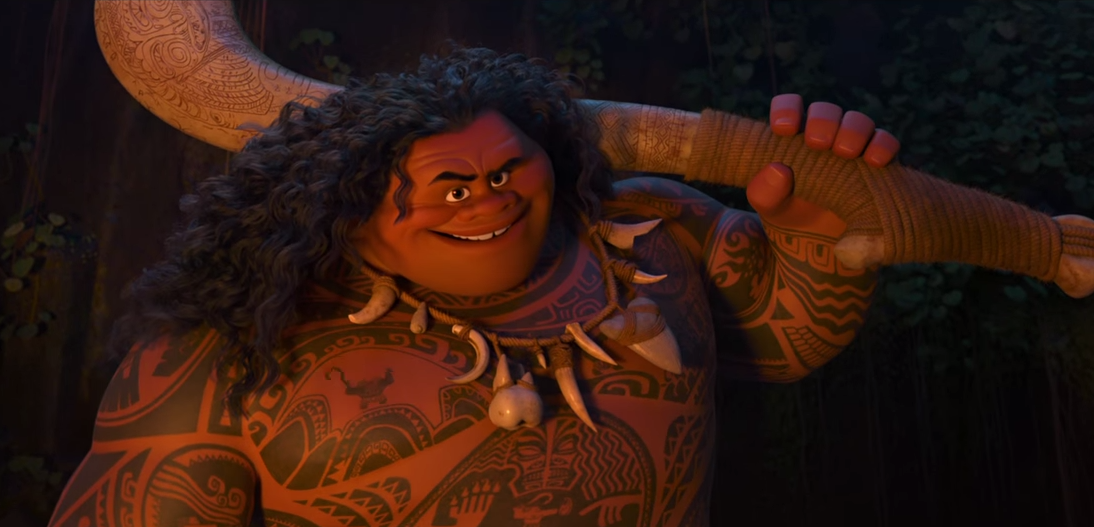 After relentless complaining about the lack of proper fat and minority representation in the media, activists are now upset over a large Polynesian demigod character featured in Disney's upcoming film "Moana" because they claim it reinforces a "negative stereotype" and promotes "fat-shaming."
Disney's "Moana," set to be released in November, follows the character Moana as she "fulfills the ancient question of her ancestors" by traveling across the Pacific.  
During her journey, Moana meets the demigod Maui, played by Dwayne "The Rock" Johnson. In the trailer for the film, Maui is described "the greatest demigod in all the Pacific Islands."
Despite Disney making a minority character a demigod, and despite the fat-positivity activists who believe people are "healthy at every size," some are upset over the depiction of Maui as a large person because they believe it reinforces a "negative stereotype" about Polynesians.
In a post on Facebook, New Zealand Labour Party parliament member Jenny Salesa wrote, "When we look at photos of Polynesian men & women from the last 100-200 years, most of our people were not overweight and this negative stereotype of Maui is just not acceptable - No thanks to Disney."
Salesa shared a photo posted by Samoan rugby player Eliota Fuimaono-Sapolu, who asserted Maui looks like a "half pig half hippo."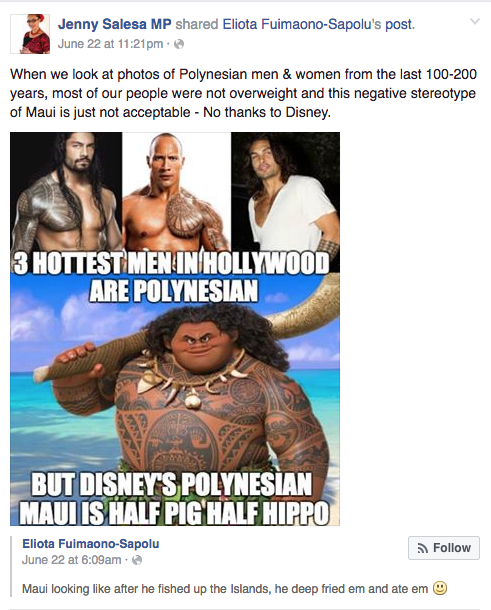 Fuimaono-Sapolu also posted a photo pointing out the alleged hypocrisy between the portrayal of white characters versus Polynesian characters in the media: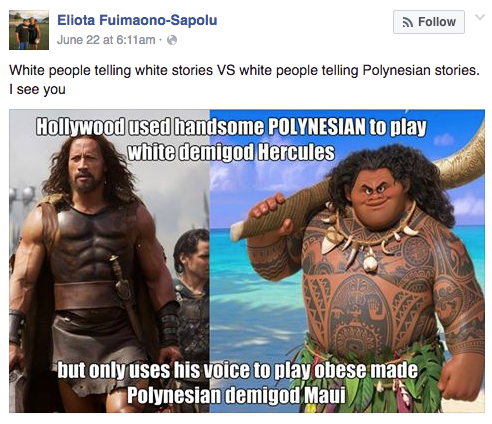 Yahoo! Beauty even went as far as to describe Maui's character as "fat-shaming" Polynesians (because, apparently, being a demigod is a shameful position).
Speaking to Yahoo! Beauty, University of Illinois - Springfield psychology professor Karla Ivankovich asserted, "Some time ago, there were reports of a collaboration between Disney and Blue Cross and Blue Shield. The intention was to help children make better lifestyle choices. The campaign featured apps and websites including 'buff, virtuous' characters Will Power and Callie Stenics squaring off against nemeses like the lazy, grotesque Lead Bottom and the transparently-named Glutton."
However, Ivankovich noted, "When I saw the character, I did not see a fat man." Instead, she says, "I saw a strong man who would easily fit the male stereotype of hunter, gatherer, and provider. Now, when I read what's out there, I can see how some might be offended — but it's drawing inferences that not everyone else might share."