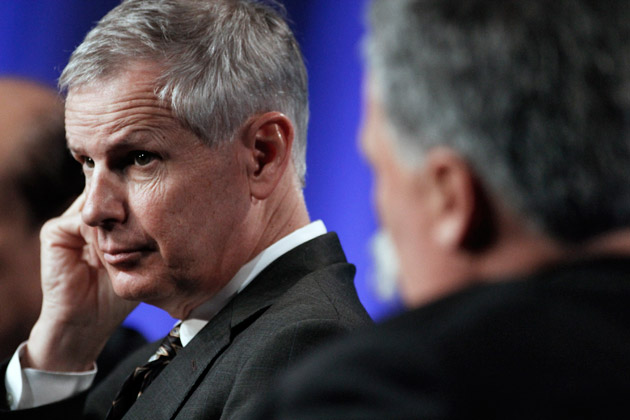 If you're a fan of the Fox News Channel but also have Dish network as your satellite provider, you haven't been a happy camper lately. 
Dish Network dropped Fox News and its sister network Fox Business Channel at the end of last year and the network still remains blacked out for Dish's 14 million subscribers.Dish Network claims that they dropped the nation's number one cable news network because of a contract dispute.  

However in recent days Fox News has begun to suggest that Dish Network is engaged in an effort to censor the network's content. 
While it's not entirely clear who's in the right in this matter, digging into the background of Dish Network's  founder and chairman Charles Ergen may help to illuminate why animosity between Dish and FNC has reached such epic proportions.
As it turns out, Charles Ergen is a big-time donor to the Democratic Party.  According to Open Secrets, Ergen donated a total of $64,000 to the Democratic Senatorial campaign Committee in 2014. 
In the 2014 cycle Ergen gave almost exclusively to Democratic candidates particularly to endangered Senate Democrats including Kay Hagen(NC), Mark Pryor (ARK.),  Mark Warner (Va) and Mark Begich (Alaska).
Of course, Mr. Ergen's generosity to the Democratic Party in the last cycle does not necessarily mean that he is targeting Fox News due to a disagreement with the network's content.
But, Ergen may have a history of abusing his position of power to promote his political preferences.
In 2012, a federal complaint was filed against Ergen in which several company executives alleged that he had intimidated them into making contributions to specific candidates, the majority of which were Democrats.
The claim was filed by an unnamed company insider who accused Ergen of "forcing" Dish Network's Chief Operating Officer Bernard Han to donate to a Democratic Party candidate in the 2009/2010 election cycle.
The complaint also claimed that Han was "encouraged" to attend Democratic functions and fundraisers and that other Dish employees were strong-armed by Ergen in a similar way.
According to the insider, Ergen insinuated to Han that he would still have his job if he declined to make the contribution, but would suffer consequences if he refused.
At this point, it is unclear as to whether the Federal Elections Commission has opened an investigation into the allegations. 
At the onset of the blackout a Fox News spokesperson released the following statement:
"It is disappointing that, after nearly two decades without a blackout, FOX News Channel has been blocked by DISH Network. We care deeply about our viewers and hope that they will regain access to the number one cable news channel soon. We will continue to work around the clock to reach an agreement with DISH, as we have done with every other pay-TV provider for 18 years. This is the third time in as many months that DISH customers have suffered through a blackout due to DISH's intransigence. DISH's record speaks for itself, and makes its rhetoric about 'reasonable' agreements ring hollow."
The next day, Dish Network released a statement asserting that it was Fox and not Dish that had pulled the Fox channels from the network.
Fox then released another statement denying Dish Network's allegations: 
"Fox News Channel did not disconnect Dish, rather, Dish prematurely ceased distribution of Fox News in an attempt to intimidate and sway our negotiations. It is unfortunate that the millions of Fox News viewers on Dish were used as pawns by their provider."
In an effort to rally FNC's viewers to put pressure on Dish to put Fox News back on the air, the cable company aired a commercial during last week's NFL playoffs featuring some of the network's biggest stars.  
According to Tim Carry, Executive Vice President of Distribution for Fox News and Fox Business, Dish Network has lost 90,000 subscribers since the blackout began on December 21st. 
UPDATE: The day following this post, on Jan. 15, 2015, Dish announced it has reached a tentative agreement to restore Fox News channels and thanked its customers for their feedback.