When you look up "trash" in the dictionary, you might see a picture of Leftist conspiracy theorist and kinda actor Tom Arnold. Arnold apparently thinks domestic terrorism is okay, and that's something that someone should get called out for - not silenced, but definitely called out.
Many of you have heard by now that Fox News' Tucker Carlson's home was terrorized by the worthless communists of Antifa. They conveniently showed up at Carlson's home when they knew he wouldn't be there, because if they showed up during the day they would have had to wake up before 2 p.m, and they can't have their ugly sleep interrupted.
Reports say that Carlson's front door was broken by the Antifa animals, and his wife hid in the pantry and called 911 because she thought it was a "home invasion."
White House correspondent for The Daily Caller Saagar Enjeti tweeted about the details of the felonious attack on Carlson's home.
That's when Arnold had to get his radical two cents in:

With his tweet Arnold is implying that Carlson deserved the attack on his home, essentially condoning violent action towards people he disagrees with.
Twitter overwhelmingly chided Arnold for his low-IQ ignorance: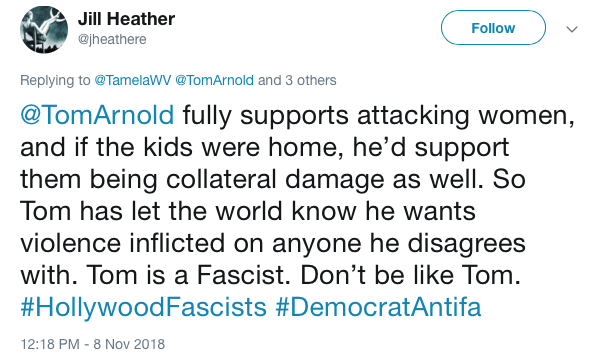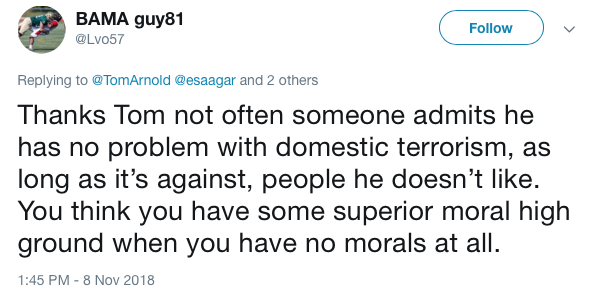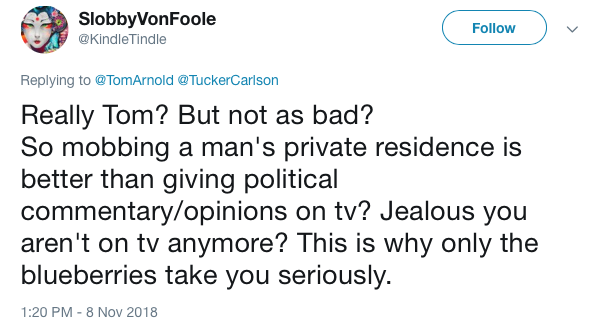 Arnold attempted to walk back his previous tweet by using warped logic:
If that's the case, why hasn't Arnold's home been attacked? I'm not saying it should, because it absolutely should NOT. No one should have that done to them, and that's the point. All I'm saying is that Arnold has been making crazy comments on camera for years. 
It's also a slight double-standard there, Tommy-boy. Notice how Arnold only used Carlson and President Trump as examples, while conveniently leaving people like Rep. Maxine Waters (D-Calif.), who routinely calls for harassment against people she disagrees with, out of the equation.
Arnold is a parasite with foot-in-mouth disease who feeds off the success of others in order to gain fame and notoriety for himself. Think about it. If it wasn't for Trump, would Arnold have his VICE conspiracy show? If it wasn't for his ex-wife Roseanne Barr, would Arnold have a career at all?
He might actually enjoy being someone that everyone dislikes, because he has no problem saying the most ignorant things at the worst times.