Some people are just so stupid and racist it hurts.
In response to the NFL's consideration of penalizing players who are not on the field for the beginning of the national anthem, hip-hop mogul Sean "Diddy" Combs took to Twitter on Tuesday to declare that owning his own league is "now my dream," ending up sounding an awful lot like a segregationist.
Combs tweeted:

While it's not 100 percent clear what Combs means when he says "our own" it sounds an awful lot like he's implying creating a segregated, all-black football league -- a suggestion that sets black athletes back by oh, about 80 years.
In fact, that's pretty much how his supporters took it.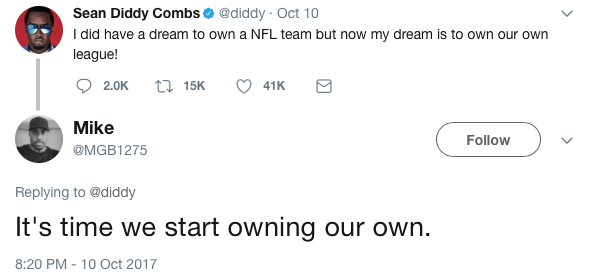 Even a Nation of Islam member got in on the fun:

Of course you do. By any means necessary, right? 
Oh, but Combs wasn't done ranting against the NFL. He continued:

Except the National Football League (NFL) already has a pension for its players. In fact, according to the Boston Globe, only seven percent of employers offer "traditional pensions" to new employees based on "a worker's pay and how long the worker stayed with the company. The NFL offers traditional pensions to those players who are in the league for at least three years.

Besides many of Combs' Twitter followers disgustingly, and sometimes hilariously, giving Combs support for his idea, resident white guy and race baiter Shaun King used his expert writing skills to give his two cents on Combs' self-righteous indignation.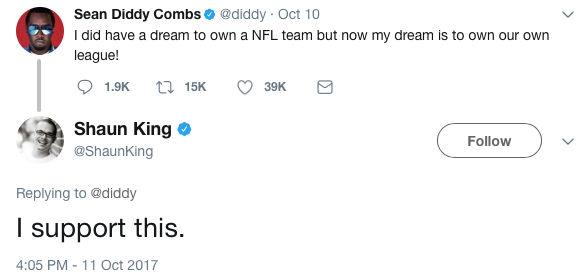 Of course you do, Shaun. Of course you do.