A New Jersey Democratic strategist and former mayoral candidate has created a "#HuntRepublicanCongressmen" hashtag campaign in response to the shooting of House Majority Whip Steve Scalise (R-La.) on Wednesday.
In a post on Facebook, James Devine said he had "little sympathy" for Scalise because he opposed President Obama's gun control efforts: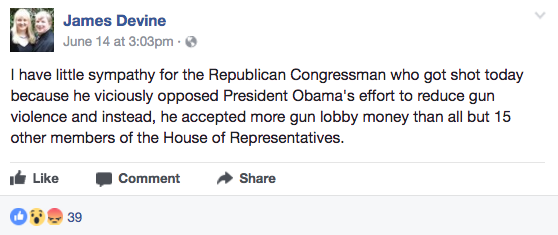 Devine then posted, both on Facebook and Twitter, the "#HuntRepublicanCongressmen" hashtag, claiming, "We are in a war with selfish, foolish & narcissistic rich people." In another tweet, he added that he can "only stand so much hand writing on Fox News":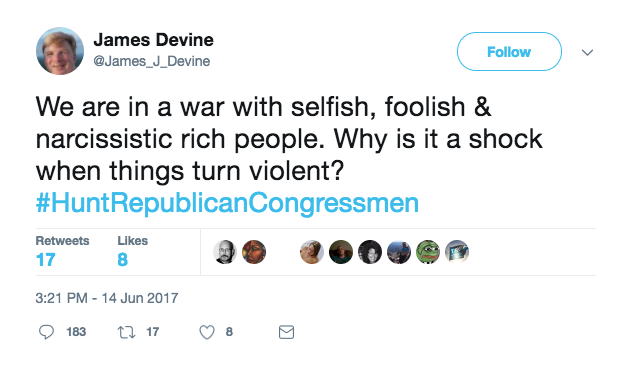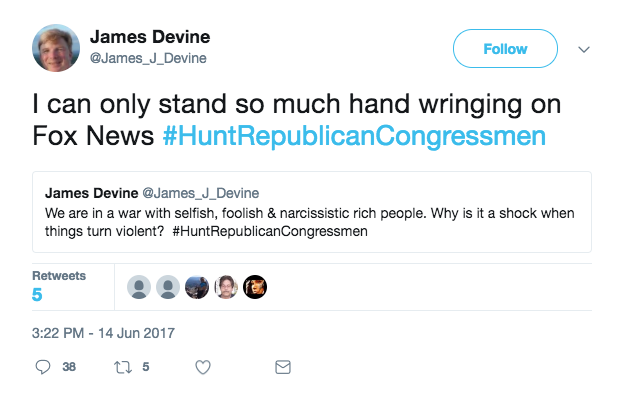 To support his lack of sympathy for Scalise, Devine claimed Scalise once spoke at a conference by a group called the European-American Unity & Rights Organization, which was started by David Duke. Scalise has since apologized for the talk, but other reports claim he was never actually at the talk.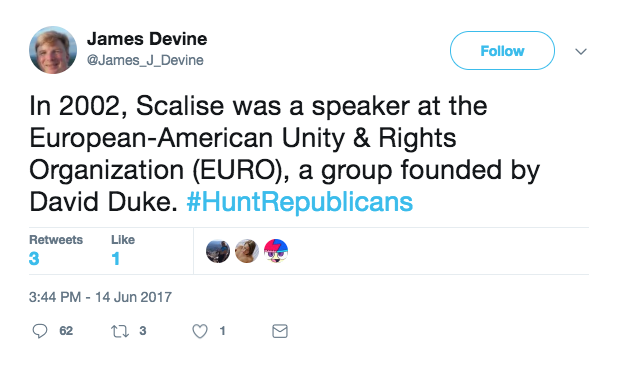 Devine also shared a facetious tweet about how a way to celebrate Flag Day is to shoot members of Congress:

Devine accused detractors of being "snowflakes" and said Republicans have not engaged in civil discourse, citing the debunked story that Sarah Palin led to the shooting of Gabby Giffords.
Devine defended his tweets in a statement to the Asbury Park Press.
Devine said, "I think it speaks for itself."
"Yesterday's events are the result of escalating rhetoric and vitriol that has been evident in our political system culminating with the election of our president and the chickens came home to roost, you know?" he asked.
"I think some people will be shocked and offended," he added, "and other people might be woken up to the fact that this is nothing that wasn't invited by things like Sarah Palin's crosshairs on Gabby Giffords before she was shot."
Devine told MyCentralJersey.com that the government is currently tyrannical and that the shooter on Wednesday was simply exercising his Second Amendment rights.
After referencing a tweet by Republican Sen. Rand Paul (R-Ky.), Devine said, "Well, now that we have a tyrannical government, to use another Republican's words, James Hodgkinson is a citizen availing himself of his Second Amendment remedies."
Kevin O'Brien, the chairman of the Rahway Democratic Committee, said, "The only response I would have is that I abhor all violence and there is no place for violence in American democracy."
According to a previous report by NJ.com, Devine was once found guilty of shoplifting while running for mayor of Rahway. Devine has reportedly been involved in Democratic politics for 35 years.
Like the shooter on Wednesday, Devine was also a vocal supporter of 2016 Democratic candidate Bernie Sanders' presidential campaign.
Thank you for supporting MRCTV! As a tax-deductible, charitable organization, we rely on the support of our readers to keep us running! Keep MRCTV going with your gift here!
MRCTV Reader,
The liberal media are terrified of the truth, especially when it leads to uncomfortable questions about their own leftist worldview.
MRCTV is the multimedia division of MRC featuring original content and aggregated videos of the news, people, and events conservatives care about.
MRCTV relies on the support of our loyal readers (and video viewers) to keep providing the news and commentary that matter to the American people, not just stories that prop up the liberal agenda.
Make a donation today. Just $15 a month would make a tremendous impact and enable us to keeping shining the light where the liberal media are afraid to tread.
— The MRCTV Team
DONATE
Connect
Sign up for our MRCTV newsletter to receive the latest news.
Sponsored Links