In case you needed any more proof that the American left has decided to use the deadly coronavirus outbreak – which has already infected more than 90,000 people and left more than 3,000 dead, including six in the United States – into a political football, Democrat Denver Councilwoman Candi CdeBaca apparently supports using the virus as a sort of bioweapon against Trump supporters.
The councilwoman, who represents Denver's 9th District, tweeted her support for one person on social media who said that if they were to come down with the deadly respiratory disease, they're "attending every MAGA rally I can" to spread the infection to Trump supporters.
"#Solidarity yaaaas!!" CdeBaca tweeted, along with a string of laughing emojis, a raised black fist and an "OK" gesture (which has temporarily ceased being a symbol of white supremacy, I suppose).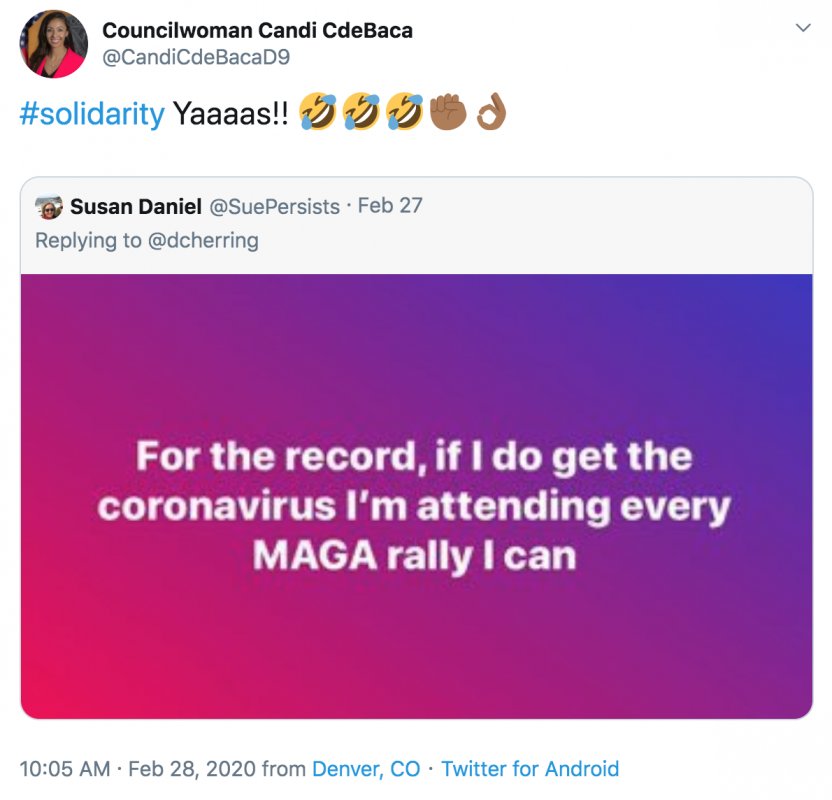 As of 9:45 a.m. Tuesday, the tweet has racked up fewer than 100 "likes" compared to more than 2,300 comments, most of which expressed disgust and calls for the councilwoman to resign.
This isn't the first time CdeBaca's made national headlines with her extreme statements. The Democratic councilwoman, who was only elected last year, also caused a stir last June when she declared she wanted to usher in socialism "by any means necessary."