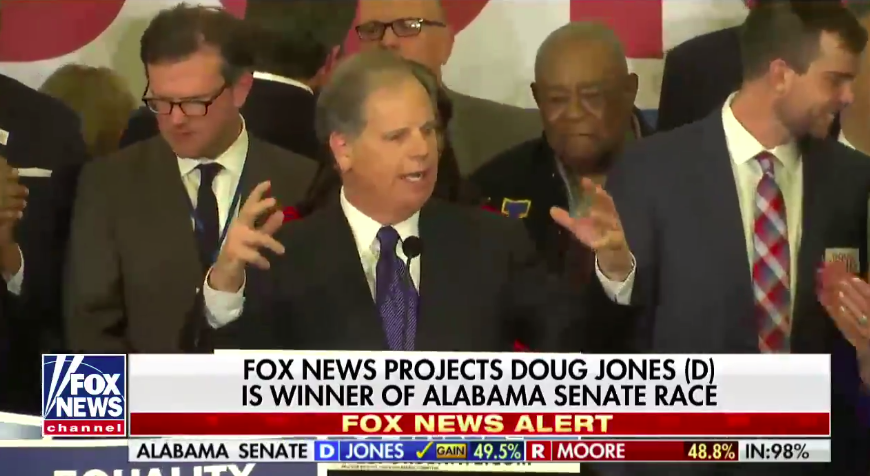 Image via Screenshot
UPDATE 11:50 P.M. EST: 
All of the votes are in and Democratic candidate Doug Jones won the Alabama Senate race with 49.9 percent.
His Republican opponent Roy Moore took 48.4 percent of the vote, coming up short by .10 percentage points to be able to call for a recount.
UPDATE 11:39 P.M. EST: 
Republican candidate Roy Moore delivered remarks at his Montgomery campaign headquarters Tuesday night after the Alabama Senate race was called in favor of his Democratic opponent Doug Jones.
Moore refused to concede even though all major news media outlets had called the race by the time of his speech and there was only 1 percent of precincts left to report.
He said that he would wait it out until the final votes were counted, most likely hoping that the he will be within a half percentage point of Jones which would allow him to call for a recount.
"Realize that when the vote is this close, it is not over," Moore said.
He invoked a passage in Psalm 40 to say that he plans to wait until the very end. 
"We also know that God is always in control," Moore said. Part of the problem with this campaign is we've been painted in an unfavorable and unfaithful light. We've been put in a hole, if you will, and it reminds me of a passage in Psalm 40: 'I waited patiently for the Lord.' That's what we've got to do." 
UPDATE 11:06 P.M. EST: 
Democrat Doug Jones delivered remarks from his campaign headquarters at the Birmingham Sheraton after winning the Alabama Senate special election.
"I have always believed that the people in Alabama have more in common that what divides us," he said. "We have shown the country the way -- that we can be unified." 
"This entire race has been about dignity and respect," he went on.
Jones added that Alabama has often found itself at a crossroads and taken the wrong path, but tonight Alabamans "have taken the right road." 
As of 11:06 P.M. EST, Mr. Jones was at 49.5 percent and his Republican opponent Roy Moore at 48.8 percent with 98 percent of precincts reporting.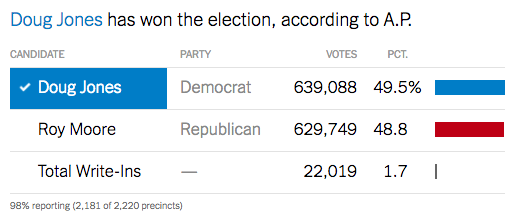 ORIGINAL STORY:
Democratic candidate Doug Jones has won the Alabama Senate race, the first Democrat to be elected to the Senate in Alabama in 25 years.
He will fill the Senate seat vacated by now-Attorney General Jeff Sessions.
Alabama voters casted their ballots on Tuesday in what turned out to be a razor-thin close race up until the very end.
The race was called at approximately 9:30 p.m. EST, with Jones taking the lead at 49.5 percent and Moore at 48.8 percent with 92 percent of precincts reporting.
Republican candidate Roy Moore maintained strong support among Alabamans in the north and rural parts of the state despite allegations of sexual misconduct that surfaced last month.
Moore denied the allegations, calling them false and "politically motivated."
President Trump and Trump's former White House adviser Steve Bannon voiced their support for Moore leading up to the special election day.
Nevertheless, the former Alabama state judge lost to his Democratic opponent.  
Each candidate has yet to give a speech on the results.
This story is developing. Stay tuned for more updates.
Thank you for supporting MRTV! As a tax-deductible, charitable organization, we rely on the support of our readers to keep us running! Keep MRCTV going with your gift here!