The NFL and NFL Players Association announced in a joint statement Thursday that league and team policies regarding conduct during the playing of the national anthem will not be issued or enforced for several weeks as part of a standstill agreement between the two sides.
A NFLPA press release posted on twitter says, "The NFL and NFLPA reflect the great values of America, which are repeatedly demonstrated by the many players doing extraordinary work in communities across our country to promote equality, fairness and justice."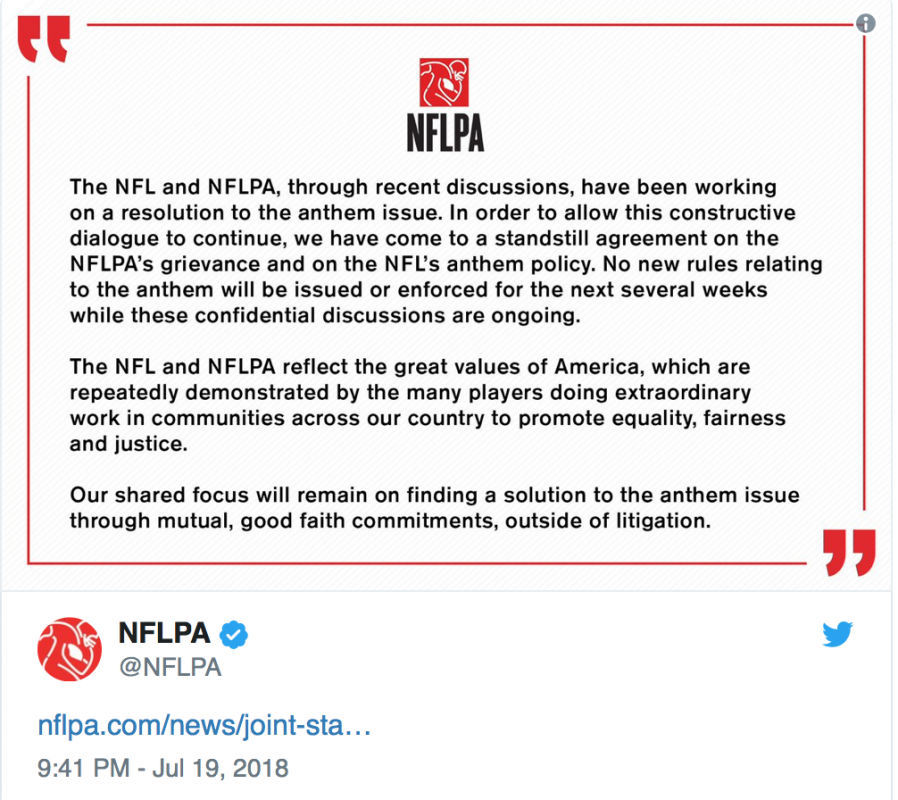 According to NFL.com:
The development comes after a Miami Dolphins source told NFL Network's Ian Rapoport that the NFL was requiring every team to submit conduct rules for the national anthem before players reported to training camp. The Dolphins had already submitted their plan to the league since their rookies reported to the training camp Wednesday, Rapoport reported. 

The Associated Press reported Thursday that "Dolphins players who protest on the field during the national anthem could be suspended for up to four games under a team policy issued this week." The AP added that the Dolphins' anthem conduct policy was under a large list of "conduct detrimental to the club" items.

 
That policy, and other team policies , are now on hold under the standstill agreement, which comes after the NFLPA filed a grievance earlier this month. In its grievance, the union stated that the policy infringes on player rights.
It will be interesting to see if the standstill comes to an end before the first preseason game, scheduled for August 2nd.