Journalist or opportunist? That's the question that faces long time investigative journalist Bob Woodward after excerpts from his new book about the Trump White House, "Fear," were published by the Washington Post, where he's the associate editor.
In his book, Woodward makes claims that Defense Secretary James Mattis back-talked President Trump on multiple occasions, according to Woodward's "anonymous sources."
Mattis wasn't having any of Woodward's assertion that he was "exasperated" and "alarmed" by Trump. The president tweeted out a statement from Mattis that took Woodward to task for his claims.
"In serving in this administration," Woodward stated, "the idea that I would show contempt for the elected Commander-in-Chief, President Trump, or tolerate disrespect to the office of the President from within our Department of Defense, is a product of someone's rich imagination."
Here's the tweet with Mattis' statement: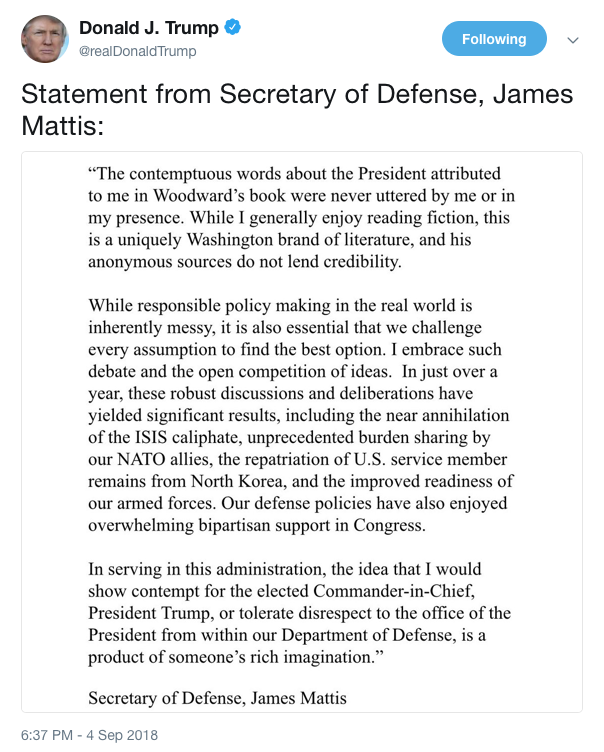 Mattis didn't mince his words one bit.
"The contemptuous words about the President attributed to me in Woodward's book were never uttered by me or in my presence," Mattis said, leading off the statement.
So, if Mattis — or anyone else that he witnessed — never said the things Woodward wrote that they said, should Woodward's book be filed in the fiction section, as Mattis eluded to in his statement?
At the end of the day, it's all 'he said, he said' in this case, really. The only two people who definitively know what was said between Trump and Mattis are Trump and Mattis. Mattis has never been known to be a liar, so if he says he didn't say those things to the president, we have to take his word for it unless something to the contrary surfaces in the future.
H/T: Daily Caller