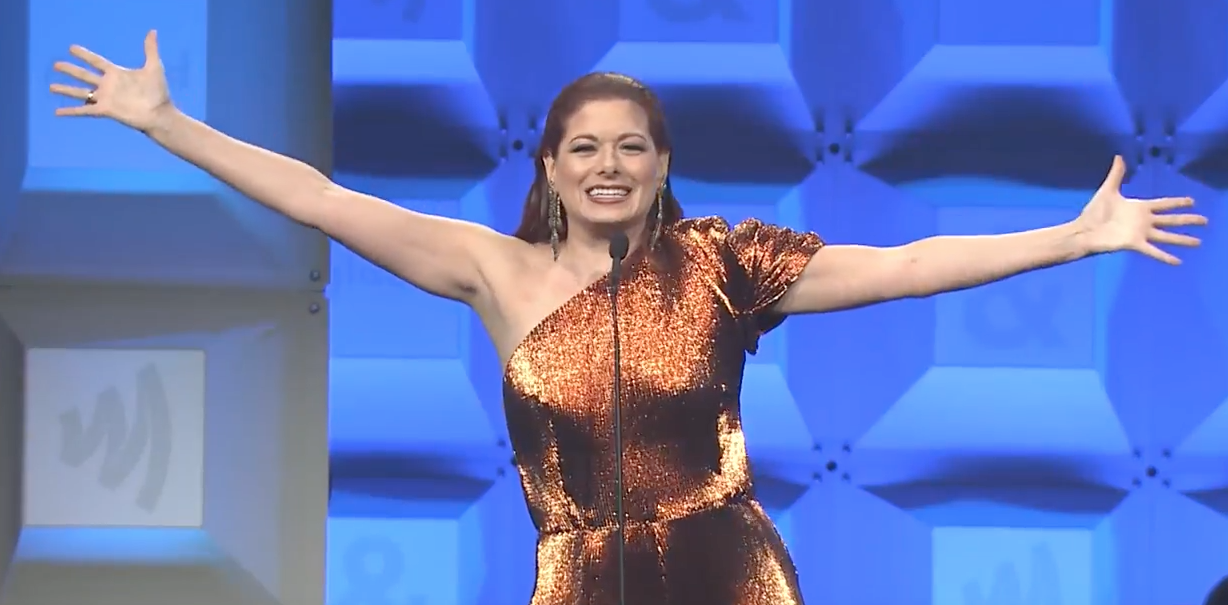 (Image: Screenshot/YouTube)
Whether you love, hate or are indifferent to President Trump, you don't have to be a genius to understand ignorance when you hear it.
All under the guise of tolerance, actress Debra Messing took to the stage on Saturday at the 2017 GLAAD Media Awards to accept the Excellence in Media Award. Not really sure what Messing has done to warrant a media award, but I digress.
"The country needs excellence in media," Messing said.
Duh.
The crazy part is that liberals don't have the faintest idea that the media has been on their side since — well, forever. They think that the media is unbiased, because most of the things the media says fall in line with their way of thinking.
"It's time to make America gay again," Messing shouted with arms wide open.
I'm sorry. When was America gay the first time? It must have been the last time Messing ever did anything of note in Hollywood.
"I mean, someone's got to take down Mother Pence," Messing slyly said as if she just delivered some statement of substance. "Talk about a low-hanging fruit."
Sure. Vice President Pence must be gay, because he only eats dinner with the woman he calls his wife. How dare he show actual devotion to anything!
Messing delivered the Pence line with such animosity and conviction that she paused for applause. Tolerance comes in many forms, and for Hollywood elites tolerance comes in the form of vanity.
"Our democracy and humanity have been under attack," Messing continued, "but unless you are an unenlightened, straight, cisgender white male, you are a target."
Yeah, in Chechnya.
This statement is so utterly ignorant that it makes one wonder what California is stalling for in seceding from the rest of the country. Who is Messing to be a judge on anyone's level of enlightenment? And enlightenment is subjective, so what Messing deems enlightened might not be someone else's defintion of the word.
She is right about one thing, though. Democracy is under attack from the people in this country who have woken up to realize that the U.S. was never intended to be a democracy. It is supposed to be a Constitutional Republic.
Messing went on, "The person we shall not name [Trump] came this close to signing an executive order that legally allows for discrimination against the LGBT community under the banner of religious freedom."
You mean the type of religious freedom that allows a lesbian couple to successfully sue bakers that wouldn't bake a cake for their wedding because of their religious beliefs? That religious freedom?
Listen, we all understand that the secular-progressives in this country want a world where people aren't allowed to worship their religion, ironically unless you're of Islamic faith, but there is no room for tolerance through intolerance.
Messing should receive an award, but the appropriate one she should get would be for irrelevance.
For video of Messing's "enlightened" speech, watch below: