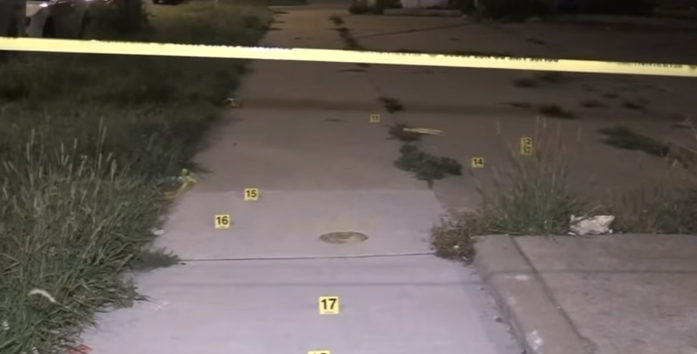 Lost in the hoopla of the Chicago Cubs playing in the World Series at Wrigley Field for the first time in 71 years, the city of Chicago saw a weekend of violence and death unprecedented in 2016.
While the Second City was cheering on its hometown Cubbies this past weekend, 59 people were shot, 17 of which died (including four teenagers). And despite 2016 being a record-setting year for violence in the city, groups like Black Lives Matter are nowhere to be found.
According to the Chicago Tribune:
Up until now, Father's Day weekend had been the most violent with 59 people shot, 13 fatally.  The same number of people were shot this past weekend but more of the shootings were fatal, according to Tribune data.
What is it about holidays that bring the worst out in people? With gun control laws in Chicago being some of the strictest in the country, why are certain segments of Chicago seemingly crumbling?
Three reasons. One: criminals don't register their weapons. Two: despite having those tough gun laws, the city of Chicago doesn't enforce them. Third, and possibly most important, police are beginning to be fear doing their jobs because of "social justice" retribution, which just helps crime accelerate.
The numbers for 2016 are staggering, and they're only going to get worse.
The Chicago Tribune also reported:
There have been at least 638 homicides so far this year, 217 more than this time last year, the data show. At least 3,662 people have been shot in the city, 1,106 more than during the same period last year.
You are reading those numbers correctly. There has been a 43 percent rise in gun violence in 2016 compared to the same time frame last year.
In August, Illinois Gov. Bruce Rauner (R) introduced new gun control legislation that actually makes sense. The Firearms Trafficking Bill makes the penalty much worse for those selling illegal guns. So instead of focusing on guns owned and sold legally by law-abiding citizens, Rauner decided to focus on the weapons doing the majority of the destruction to the city of Chicago and state of Illinois as a whole.
But whatever the laws might be, one thing's for sure: it has become a very sad state of affairs in the Windy City.