In the wake of a truly bizarre picture of Joe Biden rubbing the shoulders of the wife of newly minted Secretary of Defense Ashton Carter, one Washington DC radio station decided to take a cue from the Vice President and offer free back rubs to passersby on Wednesday morning.
The Sarah, Ty and Mel morning show on DC's 107.3 radio station set their resident funny man, Samy K, up in a booth in front of a local Washington D.C.. Metro station , offering free back rubs to anyone who was feeling a little tense.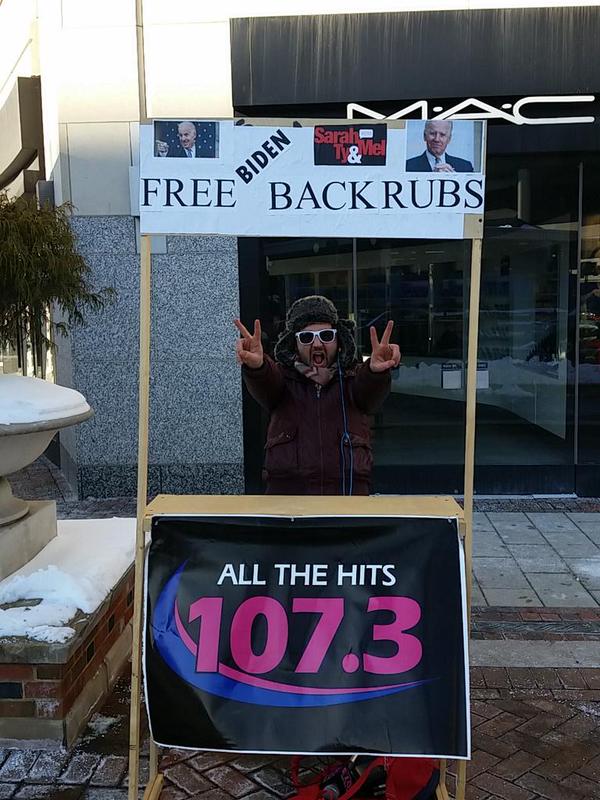 It is unclear if anyone stopped to receive a complementary back rub from a complete stranger in the below freezing temperatures, but Samy was really selling his product as he offered his free product to passersby.
A short video featuring Samy's antics can was featured on the show's Instagram account.
MRCTV Reader,
The liberal media are terrified of the truth, especially when it leads to uncomfortable questions about their own leftist worldview.
MRCTV is the multimedia division of MRC featuring original content and aggregated videos of the news, people, and events conservatives care about.
MRCTV relies on the support of our loyal readers (and video viewers) to keep providing the news and commentary that matter to the American people, not just stories that prop up the liberal agenda.
Make a donation today. Just $15 a month would make a tremendous impact and enable us to keeping shining the light where the liberal media are afraid to tread.
— The MRCTV Team
DONATE
Connect
Sign up for our MRCTV newsletter to receive the latest news.
Sponsored Links