Update, 12/23: WMATA will reportedly be partnering with Trump's inaugural committee to come up with a SmarTrip card sleeve featuring Trump.
Original story:
The Washington Metropolitan Transit Authority, the bureaucracy in charge of Washington D.C.'s mass transit system, unveiled a fare card to commemorate the presidential inauguration that does not make a single reference to President-elect Donald Trump.
In an announcement on Wednesday, WMATA unveiled its SmarTrip card for Trump's inauguration. While the card does claim to commemorate the "58th presidential inauguration celebration," it does not mention who is being inaugurated.
For the 2009 and 2013 inaugurations, WMATA put President Obama literally front and center on their commemorative cards.
The 2009 card read, "BARACK OBAMA, 44th President of the United States" with Obama's smiling face. The 2013 card featured another picture of Obama smiling, and added the words, "AMERICA MAKES HISTORY AGAIN."

(Image source: DCist)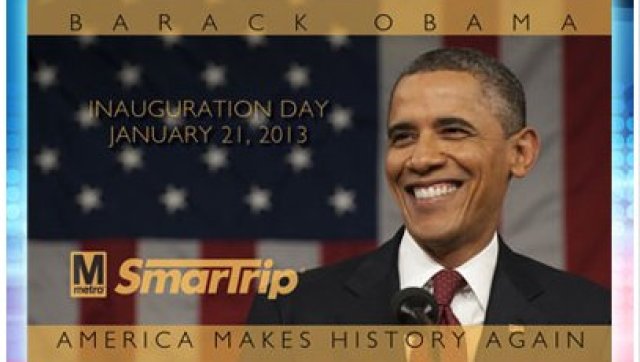 (Image source: The Huffington Post)
The card prepared for Trump's inauguration features a graphic of the White House in the center and an American flag in the background.
(Image source: WMATA)
The special SmarTrip cards include a "special one-day pass valid for unlimited trips on Metrorail or Metrobus on Inauguration Day" for $10.