Marijuana activists are planning to hand out "at least" 1,000 marijuana cigarettes to members of Congress as part of a push to remove marijuana from the Controlled Substances Act.
According to a press release on the DCMJ website, attendees of the "1st Annual Joint Session" are entitled to receive "two free marijuana joints."
The invitation notes that the event is open for "all members of Congress, congressional staff, interns, Capitol Hill support staff, and credentialed journalists who are over 21 years of age."
Adam Eidinger, the cofounder of DCMJ, said, "Americans don't want a crackdown on legal cannabis—they want Congress to end cannabis prohibition once and for all."
"It is time Congress remove cannabis from its Schedule I classification—and act. On 420, we'll celebrate adults making informed choices based on facts, rather than propaganda," Eidinger continued. Our demonstration will begin to lift the special-interest smokescreen giving Congress cover and preventing responsible cannabis laws from being enacted at the federal level."
Shortly after the event started at noon, DCMJ's Twitter reported two of their activists have been arrested: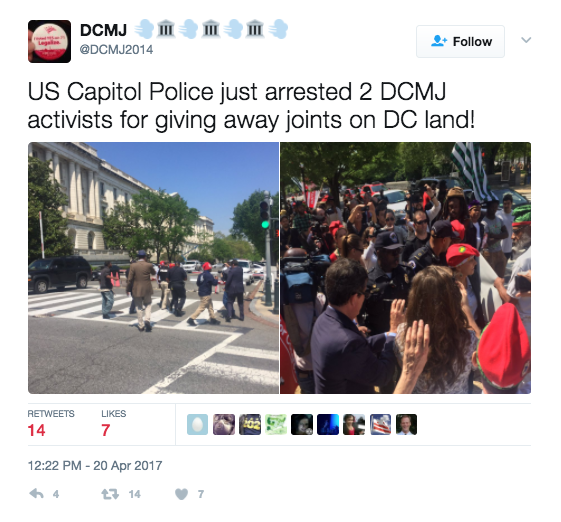 NBC 4's Mark Segraves stated have been "not many takers" so far.
Eidinger told the Washingtonian, "If nobody shows up from some of these Congressional offices we've been inviting over the last few weeks, then it will show that actually they are really out of touch."
The Washingtonian notes Congress is currently in recess.
Thank you for supporting MRCTV! As a tax-deductible, charitable organization, we rely on the support of our readers to keep us running! Keep MRCTV going with your gift here!