One D.C restaurant has a unique way of celebrating White House chaos.
According to The Hill, The Bird, a local area bar, announced its $4 drink specials to celebrate the news that now-former Chief Strategist Steve Bannon is leaving the White House. 
The restaurant, located in the Shaw neighborhood of Northwest D.C., first began offering the discounted drinks after former White House communications director Anthony Scaramucci was fired, according to the Washingtonian. The restaurant offered a special cocktail called "the Mooch" following his firing and shortly after decided to offer discounted drinks "anytime Trump fires a White House official," according to their Twitter profile.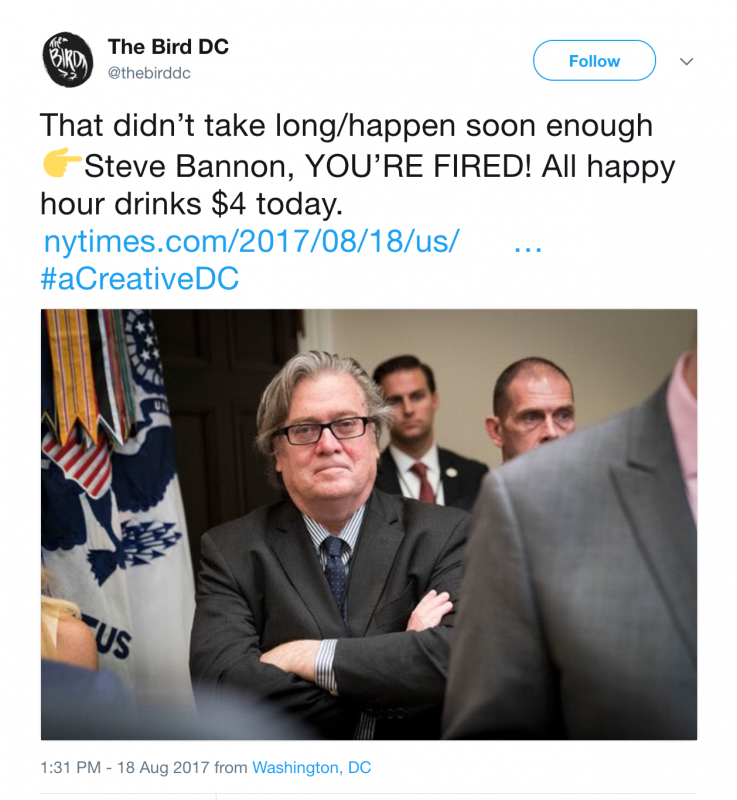 Well, it's great to see The Bird is using supply and demand marketing to make more money. Isn't capitalism amazing? 
Thank you for supporting MRCTV! As a tax-deductible, charitable organization, we rely on the support of our readers to keep us running! Keep MRCTV going with your gift here! 
(Cover Photo Image: Gage Skidmore)
MRCTV Reader,
The liberal media are terrified of the truth, especially when it leads to uncomfortable questions about their own leftist worldview.
MRCTV is the multimedia division of MRC featuring original content and aggregated videos of the news, people, and events conservatives care about.
MRCTV relies on the support of our loyal readers (and video viewers) to keep providing the news and commentary that matter to the American people, not just stories that prop up the liberal agenda.
Make a donation today. Just $15 a month would make a tremendous impact and enable us to keeping shining the light where the liberal media are afraid to tread.
— The MRCTV Team
DONATE
Connect
Sign up for our MRCTV newsletter to receive the latest news.
Sponsored Links