Even though you're all reading this, this next story might make you wish you were illiterate.
I'm just gonna say it. Parkland activist David Hogg got a book deal. The crazy part is that the publishing firm that signed Hogg and his sister Lauren isn't a no-name publisher.
According to Entertainment Weekly, Penguin Random House is the publishing firm that has signed on for a book from the Hogg's about their "movement." Penguin Random House has already put up a webpage where you can pre-order the book — titled #NeverAgain — and is slated to hit shelves on June 5 of this year.
Hogg tweeted about the book on Wednesday: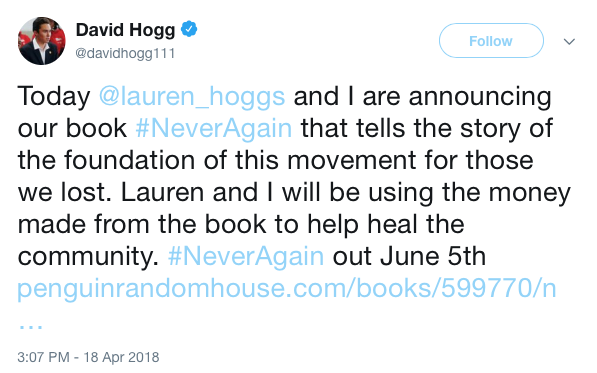 The summary of the book is just as vomit-inducing as you might expect.
Here's a portion of the summary:
This book is a manifesto for the movement begun that day, one that has already changed America–with voices of a new generation that are speaking truth to power, and are determined to succeed where their elders have failed. With moral force and clarity, a new generation has made it clear that problems previously deemed unsolvable due to powerful lobbies and political cowardice will be theirs to solve. Born just after Columbine and raised amid seemingly endless war and routine active shooter drills, this generation now says, Enough. This book is their statement of purpose, and the story of their lives. It is the essential guide to the #NeverAgain movement.
"Manifesto" is probably not the best word to use to describe this upcoming book since the most famous manifesto is that of the Communist variety.
It seems as though this book is being rushed, judging by the release date. PJ Media noted that the audiobook version is only 180 minutes long.
Who knows if this book will add a 16th or 17th minute of fame for Hogg, but he's clearly grasping at straws because his previous 15 minutes are up.