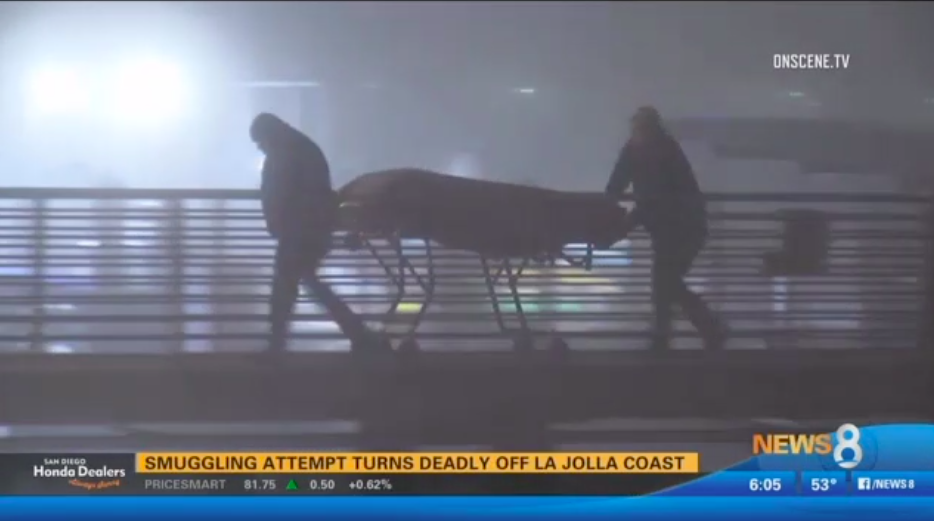 Image via Screenshot
A dangerous smuggling attempt off the coast of San Diego, Calif., is under investigation after one person was found dead, another clinging to life, and four others remain missing.
San Diego Border Patrol says seven people were spotted off the La Jolla coast Saturday night.
"Law enforcement and rescuers searched by air and sea off the coast of La Jolla after a resident heard people yelling from the water," reports CBS 8. "Lifeguards say they found one man clinging to a boogie board around 11:30 p.m. Saturday. Authorities said he was very cold and had been in the water for up to a couple of hours. The 32-year-old Mexican national was treated at an area hospital for hypothermia and taken into custody by border patrol."
Another man was discovered dead after his body washed ashore.
"Four other people remain unaccounted for while the driver of the Panga boat returned to Mexico," writes the local station.
All seven were believed to have come from Mexico. 
San Diego Border Patrol Agent Tekae Michael told CBS 8 that this is just another example of "transnational criminal organizations using humans" and "having complete disregard for human life."
"Their worry is profit over the safety of people," she said.
She said that in this case, as in many others, the driver of the Panga boat likely told the people he was smuggling to jump off the boat and swim to shore, knowing that Border Patrol's "primary concern is for the safety of the humans being smuggled."
"With smuggling organizations, they know that our primary concern is for the safety of the humans being smuggled on Panga boats," Agent Michael said.
"With that known, they'll tell people to jump off the boat. Our response becomes a rescue mission and they're able to return to Mexico without being apprehended," she continued.
Michael said that maritime smuggling attempts are "very common" for San Diego sector Border Patrol. 
For more, check out the CBS 8 report below.
Thank you for supporting MRTV! As a tax-deductible, charitable organization, we rely on the support of our readers to keep us running! Keep MRCTV going with your gift here!