According to some gun control advocates, the proper way to argue your point against a pro-Second Amendment advocate is to threaten their lives. The hypocrisy is strong with this one.
Talk radio host and NRA spokesperson Dana Loesch took to Twitter on Sunday saying she and her family are being forced to move from their home after receiving so many threats from the anti-gun crowd.
Loesch said she's been threatened with death, assault and sexual violence for her public stance on gun rights. Some threats, she said, even targeted her young children.
Here's are Loesch's tweets outlining the situation: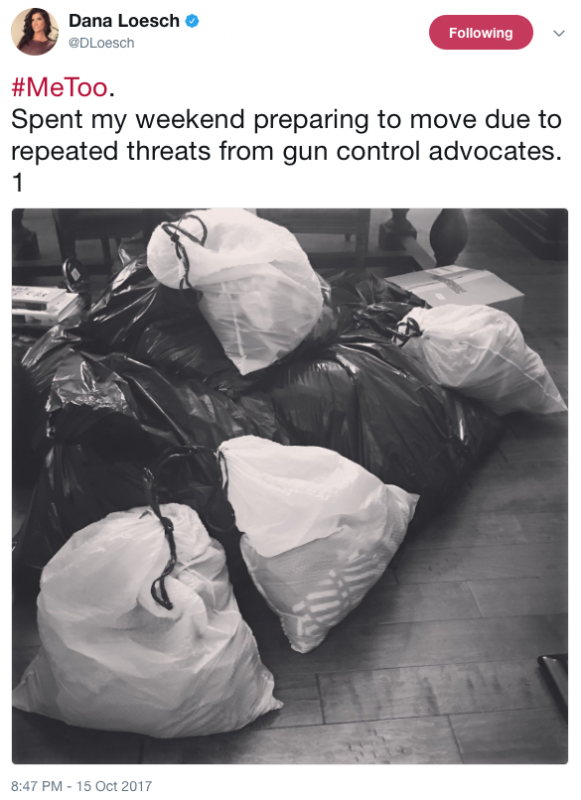 Being forced to move because of your beliefs isn't common, but judging by the hate coming from social justice warriors (SJWs), the practice could be a sign of things to come.

So, this guy is a gun control advocate who threatened to shoot someone because they are pro-Second Amendment? That makes sense.

It's funny how the more radical segment of gun control advocates threaten violence towards people that legally own firearms. These are the same people who claim that the U.S. has a "rape culture." 

This is disgusting. All of these threats for promoting her beliefs and being associated with the NRA? Is this what it's come to? 
Loesch, and anyone else who's had to deal with a situation like this, shouldn't have to move from her home because she's getting threats over having beliefs that might differ from someone else's.
Radicals, like the ones targeting Loesch, are the usually the first ones to carry out the exact same act they are rallying against. Tolerance at its finest.
MRCTV Reader,
The liberal media are terrified of the truth, especially when it leads to uncomfortable questions about their own leftist worldview.
MRCTV is the multimedia division of MRC featuring original content and aggregated videos of the news, people, and events conservatives care about.
MRCTV relies on the support of our loyal readers (and video viewers) to keep providing the news and commentary that matter to the American people, not just stories that prop up the liberal agenda.
Make a donation today. Just $15 a month would make a tremendous impact and enable us to keeping shining the light where the liberal media are afraid to tread.
— The MRCTV Team
DONATE
Connect
Sign up for our MRCTV newsletter to receive the latest news.
Sponsored Links