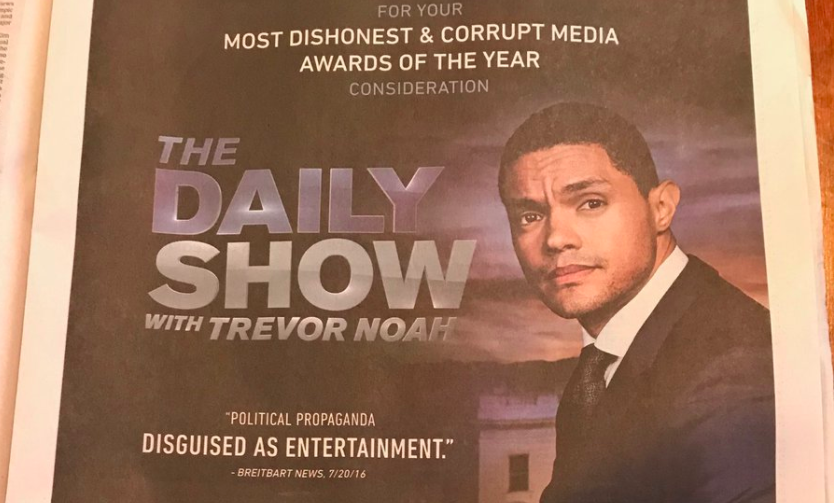 Image via Screenshot / Twitter
Comedy Central's "The Daily Show with Trevor Noah" is running an Oscar-style "For Your Consideration" advertising campaign in a bid to win an accolade in President Trump's "The Most Dishonest & Corrupt Media Awards."
"The show purchased a full-page advertisement in The New York Times today in the style of an Academy Awards "For Your Consideration" campaign," reported The Hill on Friday. "The ad features quotes about 'The Daily Show' from Breitbart News and Fox News' 'Fox and Friends,' as well as a New York Post quote calling the show 'monotonous…liberal dogma.'"
The ad concludes with the quote, "The Daily Show With Trevor Noah: So Fake, Even This Ad Isn't Real."
It's no secret host Trevor Noah dislikes the President. He regularly chastises Trump on his show. 
During his show Thursday night, Noah said that the "Fire and Fury" book published Friday alleging widespread dysfunction and infighting within the Trump administration is "a perfect scandal" for the White House. 
"Bizarre, unverified, fraudulent claims. This is the world that Donald Trump promotes," Noah explained.
With a twist, he argued that Trump should embrace the book, which claims Trump didn't actually want to win the election and that members of his campaign didn't think he would win, because it exonerates him from claims of collusion with Russia.
"Trump not actually wanting to win the election would explain so much about the kind of president that he is," said Noah. "And I will say this, if you believe that he didn't want to win, then it's hard to believe that he colluded with the Russians."
President Trump tweeted on Tuesday that he will be announcing the winners of his "The Most Dishonest & Corrupt Media Awards of the Year" on Monday.
"Subjects will cover Dishonesty & Bad Reporting in various categories from the Fake News Media. Stay tuned!" he wrote.
Trump suggested a "Fake News Trophy" contest back in November, saying that major news networks like CNN "are all bad," with the exception of Fox News Channel.
One lucky media outlet or news network will be named the "2017 King of Fake News."  
Thank you for supporting MRCTV! As a tax-deductible, charitable organization, we rely on the support of our readers to keep us running! Keep MRCTV going with your gift here!