Gov. Andrew Cuomo, who is single-handedly responsible for more COVID deaths than any other "leader" in the country thanks to his policy of shoving sick COVID patients into nursing homes with vulnerable populations that resulted in thousands of deaths, is now threatening the "full consequences of legal action" against a Jewish synagogue in New York City for reportedly holding a secret wedding in violation of the state's COVID rules.
You read that right. In 2020, in the United States of America, a sitting governor is bringing action against a Jewish house of worship for holding a wedding, because the state said not to.
RELATED:No Turkey for You! N.Y. Gov. Cuomo Cancels Thanksgiving with 89-Year-Old Mother After Backlash
The wedding, reportedly set for Monday, was to bring some 10,000 guests to Brooklyn, one of the state-designated COVID hotspots that has endured some of the city's harshest restrictions on businesses, gatherings and freedom of worship. The city's health department shut down the original wedding plans, but rumors of a "secret wedding" have been swirling over the weekend, leading the governor to declare that an investigation should take place and legal action should be taken, if it turns out people gathered in violation of the "law."
"They should investigate, and if 7,000 people were at a wedding, I'm sure they'll be able to figure it out, and then we'll bring the full consequences of legal action to bear," Cuomo said. "If it turns out that because we stopped that wedding the reaction was, 'Well we'll have a secret wedding,' that would be really shocking and totally deceitful," he added.
This is the same NYC in which Sen. Chuck Schumer was seen partying outdoors with thousands of revelers in celebration of Joe Biden's presumptive win over President Donald Trump not three weeks ago.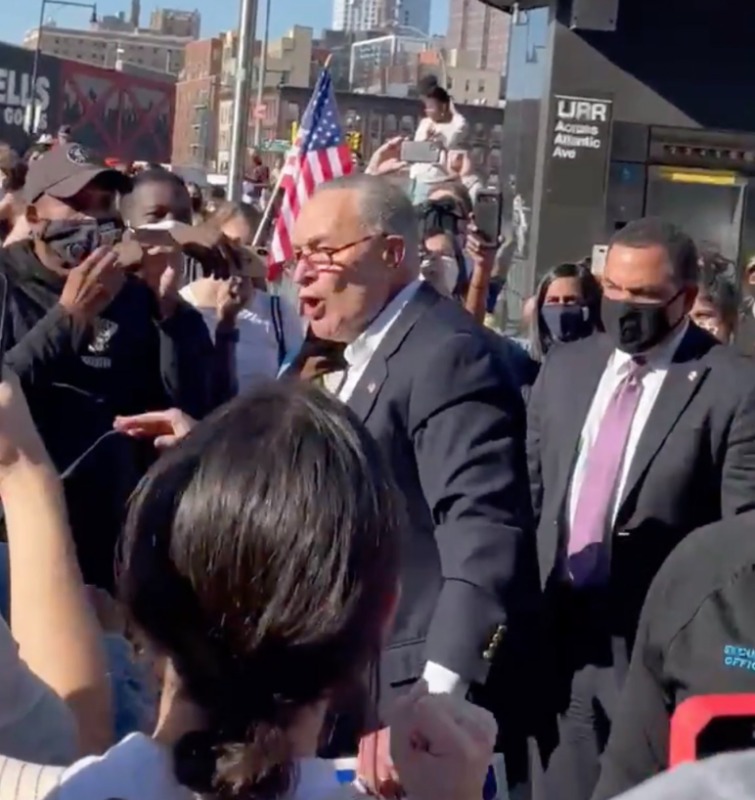 The same NYC where thousands of people held a concert in the streets in late October to commemorate Breonna Taylor.
Thousands of people showed up in NYC for a concert / protest for Breonna Taylor.

Now imagine this is a Jewish wedding or a Rabbi's funeral.@NYGovCuomo and @NYCMayor are a disgrace! pic.twitter.com/FRfRf7jDDx

— Joel Fischer (@JFNYC1) October 19, 2020
The same NYC where, just blocks away from a pro-Biden street party, a Jewish store owner and single mother was being cited for supposedly opening her store and holding classes (she wasn't) despite COVID restrictions.
The same NYC where Mayor Bill de Blasio, who encouraged people to go about life as usual in the early days of the outbreak and who continued to go to his gym even after city residents were told to stay home, verbally singled out the Jewish community for retribution if they failed to comply with COVID mandates.
The same NYC where thousands were allowed to gather in the streets to demand justice for George Floyd, but where rabbis have been cited for holding funerals in keeping with Jewish law, where Jewish children have been forcibly run out of playgrounds and the gates welded shut behind them, and where Jews holding cultural holiday parties were broken up by police selectively complying with the state's rules against gatherings.
But there's absolutely no targeting going on, here.