The American public at large might not be thrilled with democratic socialist and 2020 presidential candidate Bernie Sanders' glowing review of the communist Cuban government, but at least one entity was all too pleased.
And that would be…the communist Cuban government.
Granma, the Cuban Communist Party's official newspaper, featured a full front-page report on Tuesday hailing Sanders' praise of "some of the social programs implemented by the historic leader of the Cuban Revolution Fidel Castro," including the dictator's forced literacy program that forced some people into government "education camps."
"U.S. Senator Bernie Sanders, today one of the strongest candidates for the nomination of the Democratic Party to the November presidential elections, recognized Cuba's role in sending doctors worldwide," Granma wrote in Spanish, per the Miami Herald.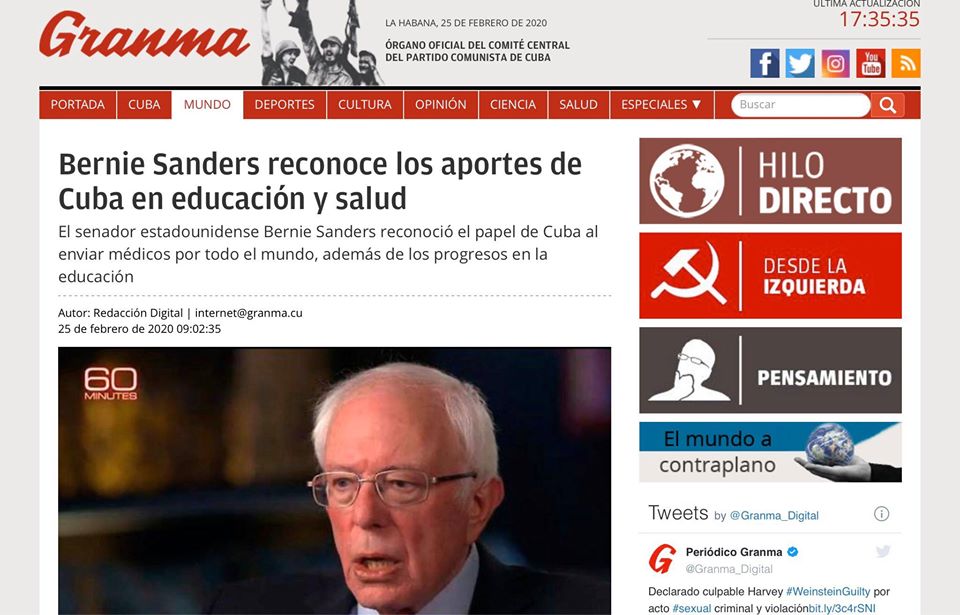 Sanders has caught backlash from both the right and the left for his comments praising Castro's revolution, which ushered in a national push for literacy – just before slaughtering thousands of political dissidents, torturing and imprisoning thousands more, wrecking the nation's economy, bankrupting the state and plunging the entire country into poverty, starvation, sickness and despair.
The oppressive regime's official news outlet may have written one of the most ringing endorsements of Sanders' comments, but they certainly weren't the only ones. CNN opinion writer Rebecca Bodenheimer carried plenty of water for the Vermont senator's defense of communism, saying that while it "wasn't wise" for Sanders to publicly air his support for Castro's platform, his "comments weren't wrong" in their factual accuracy.