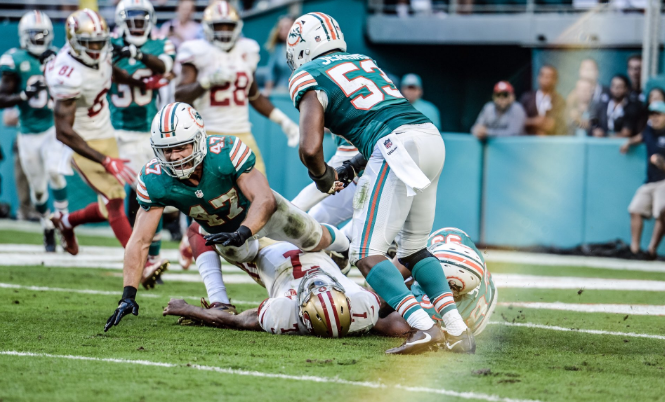 Dolphins' Kiko Alonso [47] delivers the boom on 49ers Colin Kaepernick [7] (Image: Twitter/@Kiko_Alonso)
Hypocrisy met with justice is so much sweeter when the justice is served by someone who the hypocrite is supposedly talking about.
Nearing the end of the fourth quarter of a tense 31-24 game between the Miami Dolphins and the San Francisco 49ers on Sunday, 49ers quarterback Colin Kaepernick was leading his team down the field in an attempt to tie the game in the closing moments with a touchdown.
During the 49ers last chance to score, Miami Dolphins linebacker Kiko Alonso, who, by the way, is of Cuban descent, leveled a crushing hit on Kaepernick that ended the 49ers' hopes of delivering an upset.
So now for some backstory on why this hit was just plain awesome. Kaepernick, recently known for kneeling during the National Anthem in protest of alleged racial inequality, recently praised now-deceased Cuban dictator Fidel Castro for his "investments" in education, free universal health care and helping end apartheid in South Africa.
Alonso, whose father was a Cuban exile who came to the United States to escape Castro's oppressive regime, took offense to Kaepernick's admiration for Castro.
Armando Salguero, a writer for the Miami Herald, is also Cuban and left Cuba at a time when Castro was at the height of his power. After the game, Salguero talked with Alonso and his father, Carlos, about the significance of Kaepernick's supposed support of Castro.
Salguero wrote:
He said Castro instituted universal health care in Cuba and invested in the education system and supported Nelson Mandela when he was jailed. (Castro stood against racial apartheid in South Africa while instituting economic apartheid and approving the beating of black dissidents in Cuba.)

I was waiting for Kaepernick to say he liked how Mussolini made the trains run on time.

Look, Kaepernick had a good game. That is worth your respect. He is a solid NFL quarterback when his head is right.

But to come with his ongoing Castro gibberish after this game? In this venue?

The guy played in Miami and was booed the moment he stepped on the field and he and his minions still don't understand they have it all wrong on Castro.
"You two saw what happened in Cuba first-hand," Alonso reportedly told Salguero after the game. "I didn't. But I do have feelings about it. So there was some bad blood there for me with Kaepernick."
It seemed as though the "bad blood" between Alonso and Kepernick fueled the linebacker toward his standout performance. Not only did Alonso stop Kaepernick from winning the game (with an assist from Dolphins teammate Ndamukong Suh) but he also intercepted a pass and recovered a fumble while leading his team with 12 tackles.
Alonso even shared his feelings about the game on Twitter: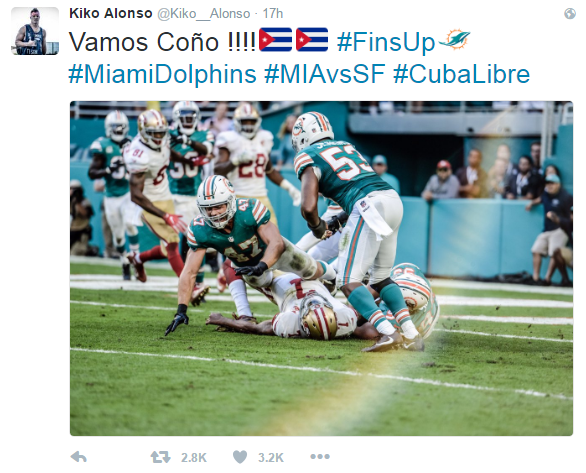 Enough said.