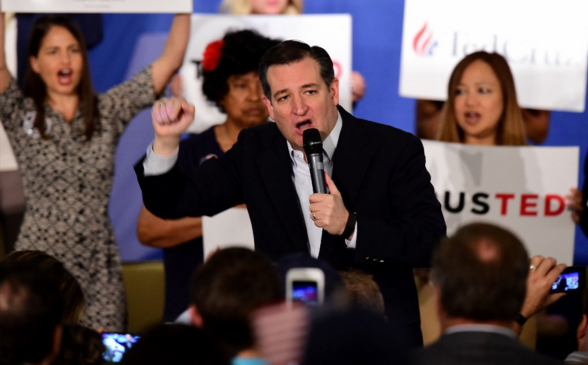 (Image via Twitter)
Sen. Ted Cruz (R-Tex.) campaigned in California on Monday, first in the state's conservative bedrock of Orange County and then in San Diego.
His rally in San Diego drew over 2,000 attendees.
During his remarks, Cruz criticized Trump for calling the delegate system "rigged" and for accusing him of buying delegates in Colorado. 
"Now, you may have noticed, when Donald loses, he gets very unhappy," he said. "He yells and screams and stomps his foot… and insults anyone nearby."
Referring to his win in Colorado on Saturday, Cruz said, "They just didn't vote for you. They voted for our campaign."
"Donald, it ain't stealing when the voters vote against you. It is the voters reclaiming this country and reclaiming sanity," he fired.  
In an unlikely turn of events, California has become a key state for Republican candidates vying for their party's presidential nomination.
Cruz hopes to win the Golden State to prevent GOP frontrunner Donald Trump from getting the magic number of delegates needed to become the uncontested nominee.
Watch video of his remarks below.