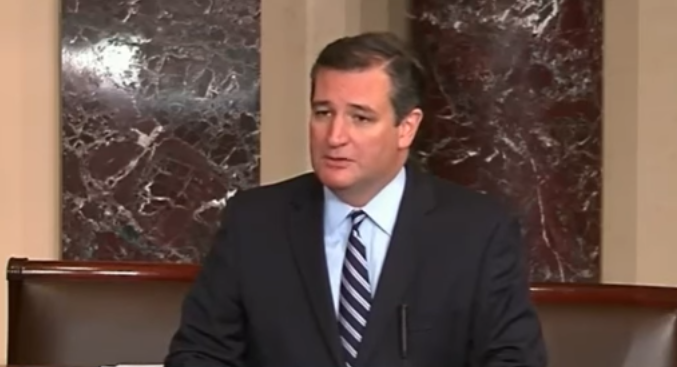 The Cuban dictator Fidel Castro is dead. And yes, I said "dictator."
I know it's been hard for people like President Obama and Canadian Prime Minister Justin Trudeau to actually say the word "dictator," but at least some politicians are calling Castro what he really was…again, a dictator.
That's what happened on the Senate floor Wednesday when Sen. Ted Cruz (R-Texas) took to the podium to speak on the passing of the oppressive Cuban "revolutionary."
"Cuba's longtime oppressive dictator Fidel Castro is dead," Cruz said.
Cruz continued on to describe and deride those that wish to remember Castro's time as the dictator of Cuba in a somehow "romantic" way all the while praising his "revolutionary" tendencies.
Cruz said:
We're not mourning the death of some revolutionary romantic or a distinguished statesman. We're not grieving for the protector of peace or a judicious steward of his people. Today, we are thankful. We are thankful that a man who has imprisoned and tortured and degraded the lives of so many is no longer with us. He is departed for warmer climes. This brutal dictator is dead, and I would like to pay tribute to the millions who have suffered at the hands of the Castro regime.
As Cruz proceeded further with his speech in front of the Senate, he pulled no punches and called out both Obama and Trudeau for their remarks, saying that "they should know better."
Cruz addressed Trudeau:
Mr. Trudeau praised Castro as a "larger than life leader who served his people for almost half a century," and a "legendary revolutionary orator" who "made significant improvements in the education and healthcare on his island nation."

Tell that to the people in the prisons. Tell that to the people who have been tortured and murdered by Fidel Castro.
Cruz continued by calling out Obama:
Mr. Obama, likewise, offered his "condolences" to the Cuban people, and blandly suggested that "history will record and judge the enormous impact of this singular figure." Now he [Obama] added we can "look to the future."

What is it about young Leftists? What is it about young Socialists that they idolize Communist dictators who torture and murder people?
In fact, Cruz said many things that the media is having a hard time with when it comes to the words of Obama and Trudeau.
For the full video of Cruz's comments on Castro, watch below: