Ted Cruz broke down why he'll be voting against the 2,200-plus page, $1.3 trillion, GOP-led spending bill Friday, slamming the omnibus as "fiscal insanity" that will continue to pass financial burdens on to the next generation.
This is why I'll vote against the omnibus spending bill:

— Ted Cruz (@tedcruz) March 22, 2018
"In 2016, the American people voted overwhelmingly for Republicans to change Washington" Cruz explained in his tweetstorm. "Now, Congress is poised to do the exact opposite: pass a massive $1.3 trillion spending bill — 2200 pages drafted by the Swamp in the dark of night — that will plunge our nation even deeper into debt."
Cruz blasted the bill for continuing to fully fund Planned Parenthood, a taxpayer-supported abortion giant that slaughters more than 320,000 children every year.
He also reamed out Congress' continued funding of sanctuary cities that intentionally refuse to cooperate with federal immigration authorities and put criminal aliens back on the streets of American communities.
"Instead of rewarding sanctuary cities, we should be passing legislation like Kate's Law, a bill I introduced to put criminal illegal aliens in jail so they can't prey on innocent Americans," Cruz said.
"Washington is failing the American people, but I will continue to fight for a better path, one that respects the will of the American people, who sent us here to fight for fiscal sanity," he added.
Check out Cruz's full statement here: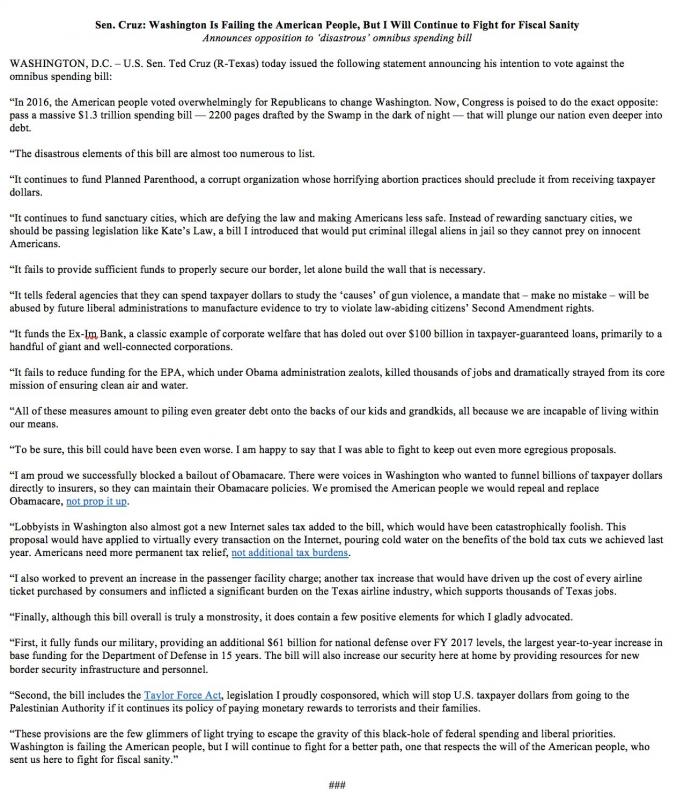 (Cover Photo: Gage Skidmore)