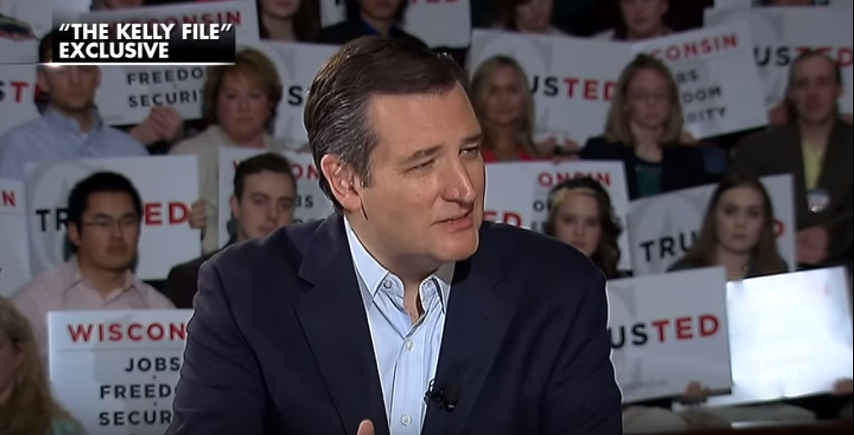 (Image via Screenshot)
In an interview with Fox News' Megyn Kelly airing Monday night, Sen. Ted Cruz (R-Tex.) addressed allegations that he cheated on his wife Heidi.
"Have you committed adultery?" Kelly asked.
"I have not," said Cruz. "That attack was complete and utter garbage. It was complete lies."
He has attributed the attack to GOP rival Donald Trump, who recently threatened to "spill the beans" on his wife Heidi.
"I know that Donald, it makes him feel really tough -- it makes him feel like a very, very big man to threaten people," said Cruz. "In particular, he seems to have a problem with strong women. I don't know why that is, but it seems to really bother him."
"There are no beans to spill," he said.
Cruz believes Trump was behind a story published by the National Enquirer that claims he had affairs with five women.
He called the story "a tabloid smear" crafted by "Donald Trump and his henchmen."
Trump denied any involvement, saying, "Ted Cruz's problem with The National Enquirer is his and his alone."
"While they were right about O.J. Simpson and John Edwards, and many others, I certainly hope they are not right about Lyin' Ted Cruz," he added.
Watch a preview from The Kelly File interview with Sen. Cruz below.
MRCTV Reader,
The liberal media are terrified of the truth, especially when it leads to uncomfortable questions about their own leftist worldview.
MRCTV is the multimedia division of MRC featuring original content and aggregated videos of the news, people, and events conservatives care about.
MRCTV relies on the support of our loyal readers (and video viewers) to keep providing the news and commentary that matter to the American people, not just stories that prop up the liberal agenda.
Make a donation today. Just $15 a month would make a tremendous impact and enable us to keeping shining the light where the liberal media are afraid to tread.
— The MRCTV Team
DONATE
Connect
Sign up for our MRCTV newsletter to receive the latest news.
Sponsored Links