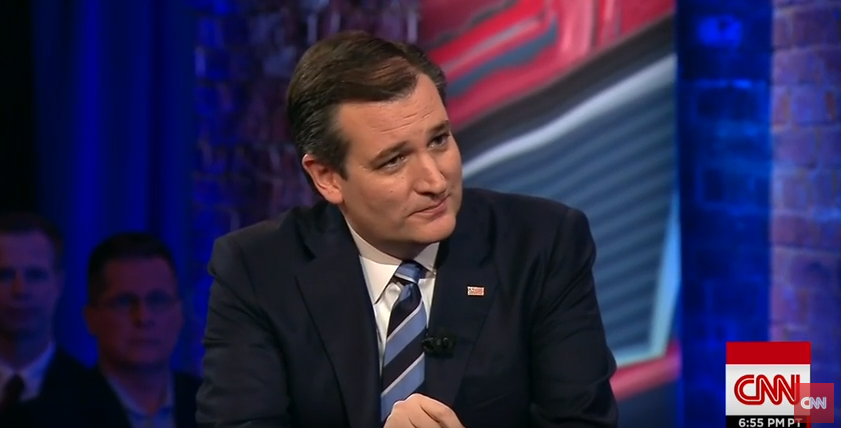 Image via Screenshot
During the CNN Republican Presidential Town Hall Wednesday night, Texas senator Ted Cruz fired back at his rival Donald Trump for threatening to sue him over a campaign ad.
"I don't think anyone is surprised that Donald is threatening to sue people. He's done that most of his adult life," Cruz fired.
The ad in question features a video clip from a 1999 Meet the Press interview in which Trump said he was "very pro-choice."  
Trump issued a cease-and-desist letter on Wednesday, demanding that the Cruz campaign stop playing the ad because it does not reflect his current stance on abortion. 
"Look, I practiced law 20 years, and this letter really pressed the bounds of the most frivolous and ridiculous letters I've ever seen," said Cruz.  "Most of the words in the ad are his own words on national television and his argument in the letter is [that] running his own words is defamation."
"It is quite literally the most ridiculous theory I've ever heard that telling the voters what Donald Trump's actual record is is deceitful and lying," he argued.
Check out Sen. Cruz's full remarks here:
Cruz held a press conference Wednesday afternoon where he read the letter Trump's campaign had sent to him. Not backing down, he called on Trump to go ahead and "file the lawsuit."
"So Donald, I would encourage you – if you want to file a lawsuit challenging this ad, claiming it is defamation, file the lawsuit," said the Texas senator.
Listen to a clip from the press conference below.