The left's army of creepy teachers, obsessed with grooming children, has just lost one of its soldiers.
FBI agents arrested Hawaiian high school teacher Alden Bunah last week on charges of distributing child pornography, according to KKTV. 
Through the Telegram app, pedophile Bunag accessed and distributed the sick content on his phone. Bunag has reportedly exchanged 3,400 messages with another sick Philadelphia private school teacher, who was arrested last October. In these chats, Bunag claimed to have sex with a victim during his lunch break and then shared a video of himself having sex with a 13-year-old boy.
Not only did this creepy porn teacher seem to get his sick thrills at the high school, but he also ran a photography business and taught dance classes to children.
Bunag's former students said he acted more like a friend than a teacher."It's absolutely disgusting," said Seth Daugherty, Bunag's former student. "I wouldn't put it past him just because he was an odd guy." "He was definitely very friendly with all of the kids, especially the male students," said Maiya Yamauchi, another former student.
According to Yamauchi, Bunag would also offer to take senior portraits of students for free. "I did see the students who [he] had rubbed the backs of and be way too friendly with. I stayed away from him," Daugherty said.
The kicker of this story is Bunag's failed projection on Twitter days before his arrest. On a Twitter thread, Bunag claimed the right-wing is secretly obsessed with child pornography.
Ironically his tweet reads, "You're f***ing acting like we want to show kids porn or something, but something I've learned through the years is that whenever right-wingers accuse others of something, it's DEFINITELY because they're projecting."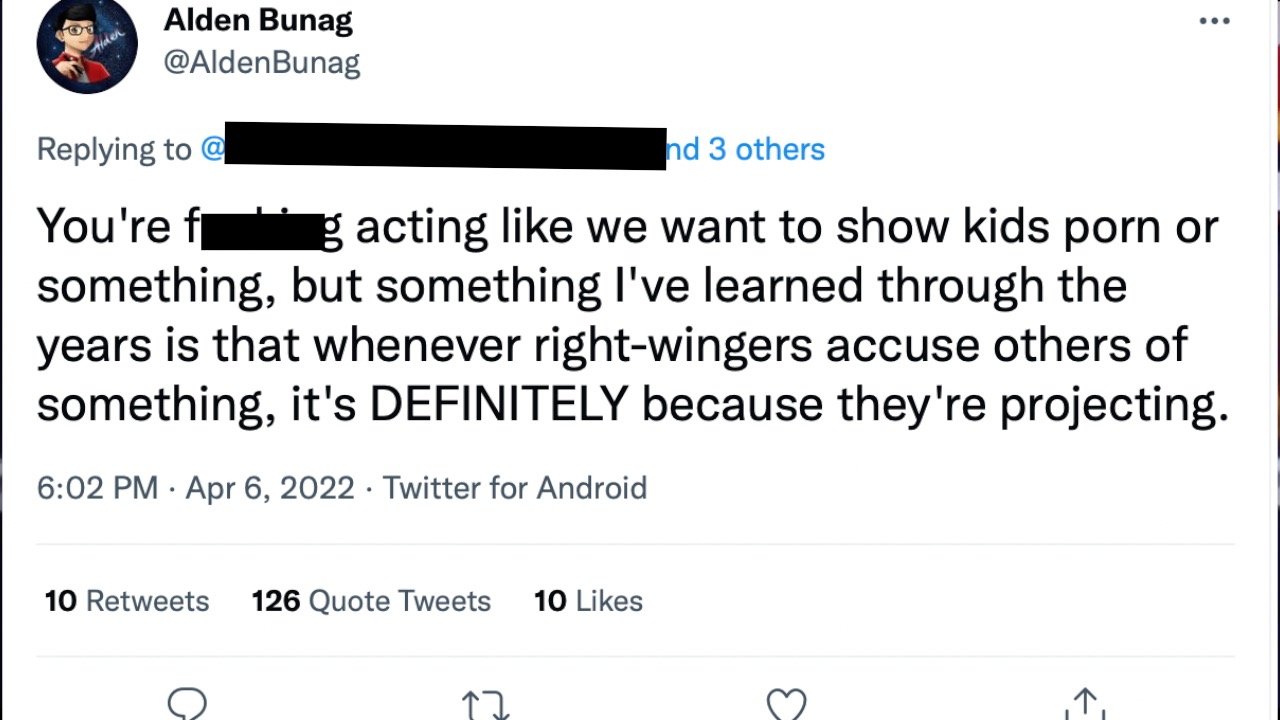 This tweet aged better than fine wine. 
Related: Classy Move: Ohio GOP Members Introduce New School Voucher Bill
Rutgers professor: "White people are committed to being villains," "We gotta take these MF'ers out."

This professor spewed hatred on a YouTube video with @TheRoot. pic.twitter.com/QrGsv77CCC

— MRCTV (@mrctv) October 26, 2021