"Creepy porn lawyer" Michael Avenatti, who wants to run for president in 2020, was royally embarrassed on Wednesday after attacking Senate Judiciary Committee Chairmain Chuck Grassley (R-Iowa) on Twitter.
Avenatti, best-known for representing porn star Stormy Daniels, in a tweet insulted Sen. Grassley for never attending law school. 
In his tweet, he wrote it's "no wonder [Grassley] doesn't understand issues like 'perjury,' FBI investigations, and which clients I have represented over the last 18 yrs."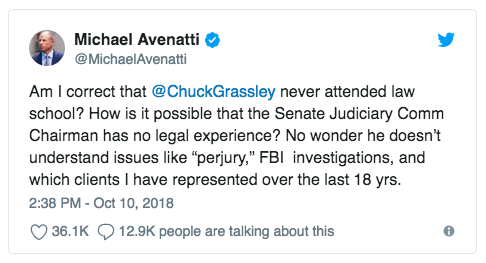 The Senate Judiciary Committee Twitter account responded to his tweet by noting Sen. Grassley's record of confirming "the most circuit court nominees" in a single Congress "on top of two Supreme Court Justices."
The account added, "And FYI, Chairman @ChuckGrassley went to the same law school Ranking Member @SenFeinstein attended."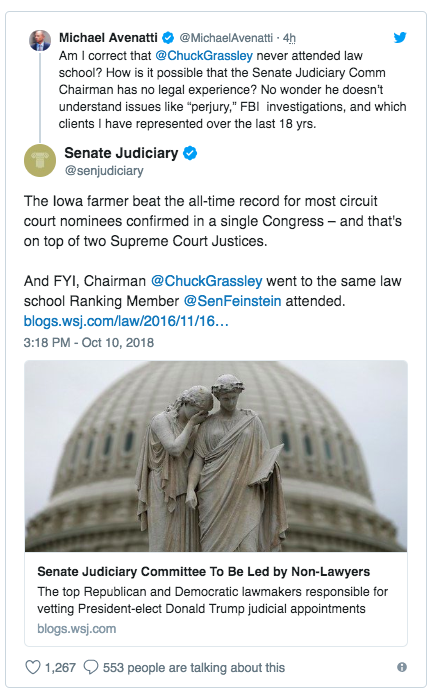 Mic drop.
Sen. Grassley received a master's degree in political science at the University of Northern Iowa in 1956 and completed Ph.D work at the University of Iowa thereafter.
Grassley was the first non-lawyer to be elected chairman of the Senate Judiciary Committee.
He built a formidable reputation for his ability to properly question lawyers and judges throughout confirmation proceedings during his years on the committee before becoming chairman.
Sen. Dianne Feinstein (D-Calif.), the top ranking Democrat on the Senate Judiciary Committee, received her bachelor's degree from Stanford University in 1955. She did not attend law school and is not a lawyer, either.
There are other members of the current committee who do not have their J.D.'s, including Sen. Ben Sasse (R-Nebr.), Sen. Jeff Flake (R-Ariz.), and Sen. Thomas Tillis (R-N.C.).