For the Left, you're not allowed to espouse a different way of doing things — even if you say that you understand their position as well. Open-minded people aren't welcome on the Left, and the curious case of Dallas Cowboys quarterback Dak Prescott lends further credence to that statement.
Prescott was recently talking to the media as the Dallas Cowboys were preparing for the upcoming 2018 NFL season, and of course, a reporter asked Prescott what he thought about the national anthem protests and his boss Cowboys owner Jerry Jones' stance that players on his team won't kneel.
"I never protest," Prescott said. "I never protest during the anthem, and I don't think that's the time or the venue to do so."
That's about as much as anyone on the Left wanted to hear from Prescott on the situation before condemning the third-year quarterback as a traitor to his race. The problem with that assertion is that the people so quick to condemn him didn't pay attention to the rest of what Prescott said.
Here are Prescott's comments in context:
As you've clearly seen, Prescott feels that it's time to take the next step in fighting social injustices rather than continuing to kneel. Prescott seems to feel that the anthem protests have served their purpose in bringing attention to social justice issues.
However, Prescott has received backlash from some simply for his stance on not protesting during the anthem: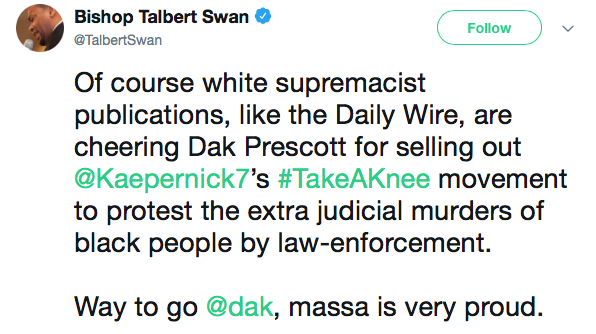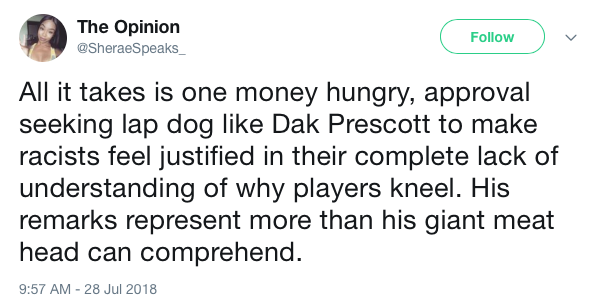 Once again, we see the Left focus on one component rather than looking at the full picture. The "low-hanging fruit" was too good to resist. People have their comments taken out of context all the time, and it needs to stop.
Some of the Twitter responses to Prescott's comments were so racist that they don't deserve air. But, if you would like to see some of them, click here. 
Prescott's teammate — superstar running back Ezekiel Elliott — told the media that the Cowboys decision to stand during the anthem was a team decision, not just a decision based on Jones' wishes.
"I think that's just the way you guys want to take it," Elliott said. "Us, as a team, we chose to stand together, for the national anthem. And it was our decision."
Elliot was responding to a reporter who asked why the Cowboys were taking such a "hard-lined stance" on the anthem controversy.
Here's Elliott's comments:
No matter what your own stance is on the anthem controversy, context matters. It's about time we weigh the full comments of a person before branding them with titles that are just as divisive as the act or words the labelers were offended by.