Here we go again. Another season of NFL football is on the horizon, so that means it's time to make tick off fans by starting up the national anthem protest talks.
Dallas Cowboys owner Jerry Jones spoke during a team press conference on Wednesday and reaffirmed his stance from last season by saying that Cowboys players have to stand during the anthem.
"Our policy is you stand during the anthem," Jones said, "toe on the line."
Jones' announcement comes a week after the NFL and the NFL Players Association (NFLPA) made a joint statement that the league and the players "have come to a standstill agreement" on any "new rules relating to the anthem."
Here's the full statement: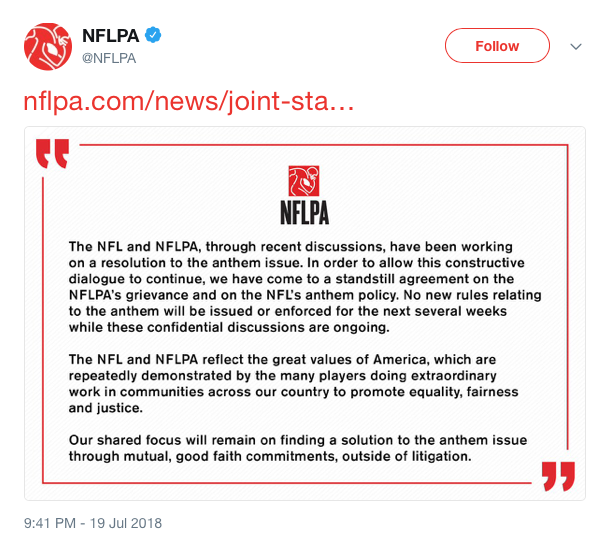 The "new rules" that the statement talked about were agreed upon by all 32 NFL franchise owners on May 23. The new policy stated that "all team and league personnel on the field shall stand and show respect for the flag and the Anthem." The policy also stated that those who choose not to stand for the anthem "may stay in the locker room or in a similar location off the field until after the Anthem has been performed."
How seriously can we take Jones' current stance considering he did kneel with the Cowboys players before the anthem on Sept. 25, 2017? It appears only time will tell with anything concerning the NFL's anthem controversy.
Who else is really sick of this debate? The upcoming 2018 NFL season will be the third season we have to be subjected to this controversy. Please just play the game a lot of us used to love.
H/T: Fox Business