Ugh, California. What is it about the far-left coast that makes a lot of people do the opposite of what common sense would dictate? I guess it could be said that they do what they do so they never have to admit they're ever wrong. Deflect, deflect, deflect. That is the mantra of the far-left, after all.
Instead of acknowledging that being sanctuary cities and importing mass numbers of illegal immigrants into their cities doesn't benefit them in reality, one California mayor went the opposite direction after a Washington Post article published on Thursday reported that the "White House proposed releasing immigrant detainees in sanctuary cities."
Using the article as motivation, San Jose, Calif. Mayor Sam Liccardo (D) tweeted out early on Friday that his city would "welcome any families willing to endure such extraordinary hardships and to take such tremendous risks to be a part of our great country."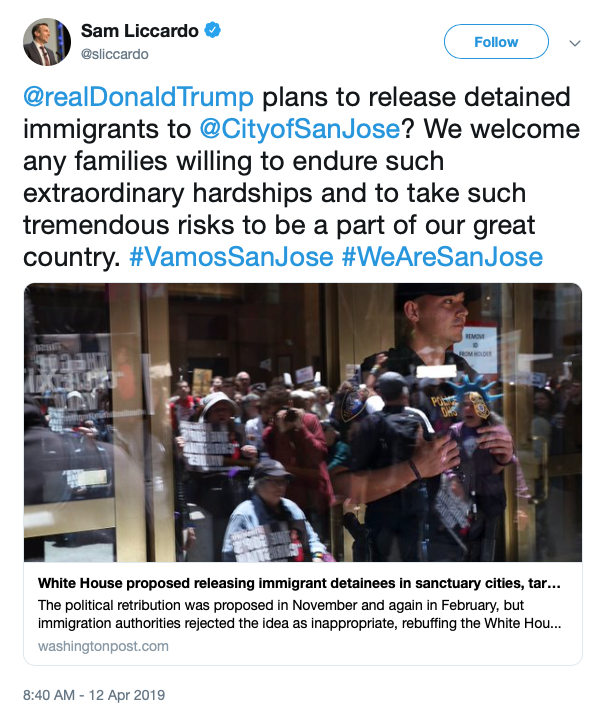 Not long after Liccardo's tweet, President Donald Trump reiterated in a tweet on Friday that he's considering "placing Illegal Immigrants in Sanctuary Cities only."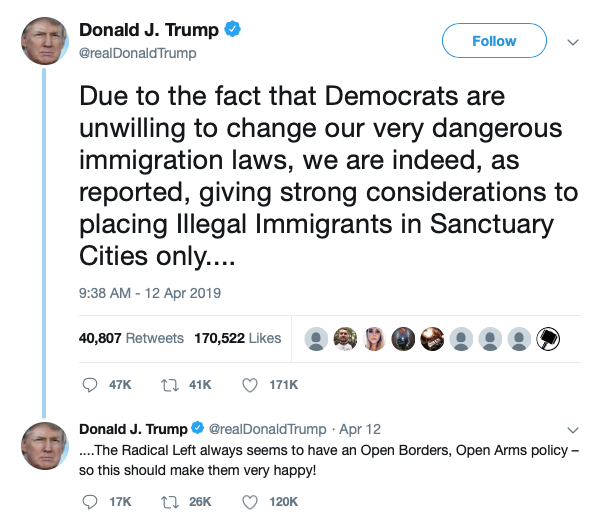 It seems as though Liccardo doesn't care much for the people that elected him to office.
In March, a Salvadoran man in the U.S. illegally was arrested for stabbing a 59-year-old woman to death in her San Jose home. The man reportedly had been arrested 10 times in the previous three years while U.S. Immigration and Customs Enforcement (ICE) had said that they've attempted to deport the man nine times before.
While it's clear that not all illegal immigrants are violent criminals, why would you blindly accept any and all people into your city without a proper vetting process? To be fair, the criminal illegal alien above was arrested 10 times, so it's pretty clear that politicians in that area don't care about crime if the person carrying out the crime isn't a legal U.S. resident.
Forget about the people that do things the right way and obey the laws on the books. When you're in the country illegally, you've already broken the law. That is, in fact, an illegal immigrant's first action on U.S. soil — to break the law.